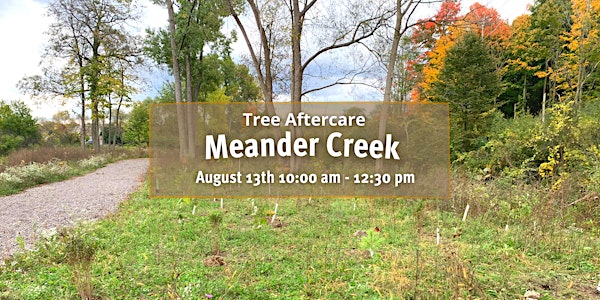 Meander Creek Tree Aftercare August 13
Join ReForest London for Aftercare at Meander Creek!
When and where
Location
1139 Staghorn Crescent 1139 Staghorn Crescent London, ON N5Y 5R1 Canada
About this event
ReForest London is hosting an Aftercare event on August 13th at Meander Creek.
Many of us have spent a lot of time using public outdoor spaces this year, so let's do our part to keep them green and leafy for generations to come. If you want to learn more, gain experience with tree care and help trees thrive, then aftercare is right for you!
No experience or training is required to attend an aftercare event. We'll teach you everything you need to know at the beginning of the event, and our staff and Tree Specialists will provide guidance to volunteers as needed.
"It was harder work than I expected but looking back on the area once we finished was extremely satisfying! Where you only saw weeds and overgrowth you could now see trees! It's a great feeling to be able to contribute a little sweat and energy and make an impact in our community! Everyone was very friendly and accommodating!" - Aftercare Volunteer 2021
Tips to help you have a great volunteer experience:
Be on time – we'll teach you proper aftercare at the beginning of the event.
Wear sturdy shoes – no sandals, flip-flops, or open-toed shoes
Wear clothing appropriate to the weather – we run events rain or shine!
Don't forget sunscreen and bug spray
Bring water – we'll have a jug to refill your reusable bottle.
Bring gloves if you have them - we will have sanitized equipment available
High school students earning volunteer hours, don't forget your forms!
Some of our locations are tricky to find – Please review the map which will be provided via email a day or so before the event and watch for posted white signs directing you to the planting locations.
We do cancel plantings due to inclement weather – so please check our website or Facebook page on the day if you are unsure.
For information about upcoming aftercare events, including what to bring, please visit our Events page at: reforestlondon.ca/events
If you have questions or concerns, please contact our Aftercare Coordinator, Maddy Sansom at aftercare@reforestlondon.ca.