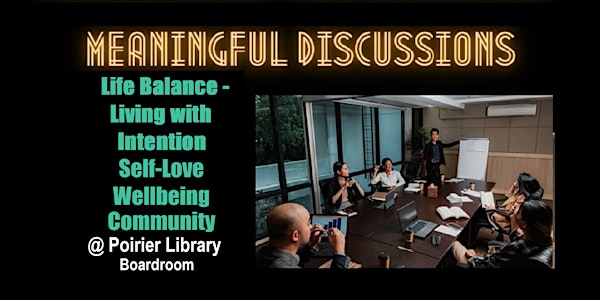 Meaningful Discussions
Meaningful Discussions - We are a community of positive, successful people who meet to discuss topics that empower well-being and growth.
Date and time
Sat, May 6, 2023 10:00 AM - 12:00 PM PDT
Location
Coquitlam Public Library, Poirier Branch 575 Poirier Street Coquitlam, BC V3J 6A9 Canada
About this event
We are building a community of people who meet once a month - usually the first Saturday morning of the month, to discuss topics and ideas that help us become a better version of ourselves. We believe in enjoying life balance, and we believe we are stronger when we meet in community to share our visions of personal growth, well-being, life balance, and self-love. We celebrate the abundance of opportunities we can share in our world.
We become what we fill our minds with and grow when we associate with others who share common goals. Come be part of our monthly discussions!
The only thing we are missing is YOU! You can be an important part of the discussion. Like most things in life, the first step is showing up! See you SOON!
Frequently asked questions
What are the expecations?
What guides the discussion?