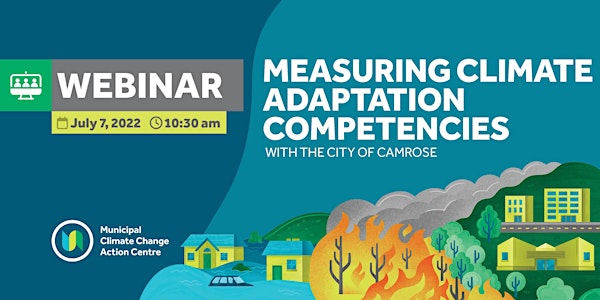 Measuring Climate Adaptation Competencies with the City of Camrose
Learn about the Climate Adaptation Competency Framework and the Community Climate Resilience Self-Assessment Tool.
About this event
Ronak Patel, the Municipal Climate Change Action Centre's capacity builing program lead will be joined by Patricia MacQuarrie, General Manager of Community Development for the City of Camrose. Together, they will do a live demonstration of the community climate resilience self-assessment, showing you how it can help highlight existing strengths and point the way toward further development.
Join us Thursday, July 7 at 10:30am for this FREE webinar.
Municipal Climate Change Action Centre
The Municipal Climate Change Action Centre was founded in 2009 as a collaborative initiative of the Alberta Municipalities, Rural Municipalities of Alberta, and the Government of Alberta.
We deliver funding, technical assistance, and education to help Alberta municipalities, school authorities and community related organizations advance actions that lower energy costs, reduce greenhouse gas emissions, and improve climate resilience.
Learn more at mccac.ca