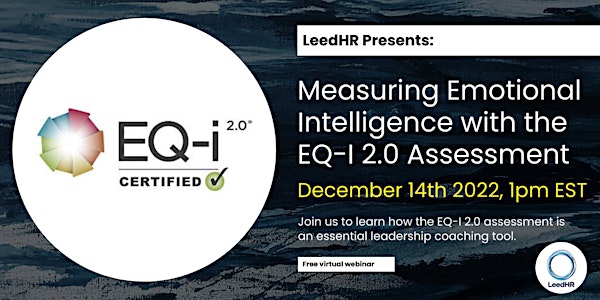 Measuring Emotional Intelligence with the EQ-i 2.0 Assessment
This webinar is specifically designed for coaches and HR professional looking to understand the EQ-i 2.0 assessment and all of its tools.
About this event
Come learn how the EQ-i 2.0 assessment is one of the best tool to measure emotional intelligence for leaders and non-leaders in your organization.
Join our 60 minutes webinar to:
• Learn what is the EQ-I 2.0 and what are its applications.
• Learn which EQ competencies are measured and how to read the results.
• Deep dive into the multiple reports available with the assessment.
• Understand how to become a certified user of the EQ-I 2.0
This session is open to all types of coaches, HR, organizational development professional potentially looking to add an emotional intelligence assessment to their practice.
About LeedHR:
Founded in Toronto by two business leaders and longtime colleagues, LeedHR is a leadership development firm focused on emotional intelligence. Our founders are linked by their belief that emotional intelligence skills are, more than ever, essential to empowering leaders to successfully lead teams and organizations in today's business environment.
Our mission is to help leaders lead with better human skills. Our services (assessments, training and coaching) are designed to help leaders of all levels learn about emotional intelligence and provide practical tools to its day to day application.