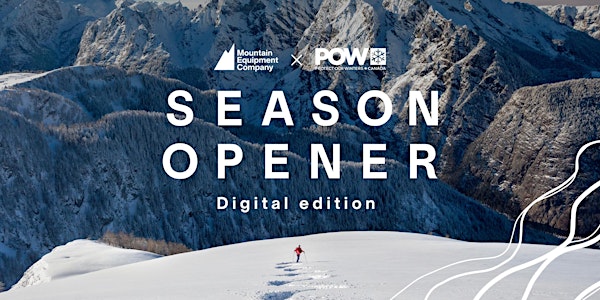 MEC x POW Season Opener // Digital Edition 2021
It's back! An all-out snow celebration to welcome winter – BYO popcorn and enjoy. All proceeds are donated to Protect Our Winters Canada.
About this event
About this event
Join MEC x POW Canada for our annual Season Opener – it's the return of our popular digital edition, plus in-person events at select stores.
The digital edition includes show-stopping lineup of films, chats with pro athletes, and giveaways will get you ready to kick off the snowy season.
The best part? All proceeds from this digital event will be donated to MEC Outdoor Impact partner Protect Our Winters Canada.
In partnership with

The Details
Your $15 all-access household pass includes:
Snow Stoke Film Library
November 15-21
This curated library of films will get you stoked for all things steep and deep. Your ticket gets you access to the library from November 15–21 so you can watch films all week long or host a (COVID-safe) viewing party. From epic ski and snowboard films featuring your favourite Canadian athletes, to Avalanche Canada webinars to help you refresh your backcountry safety knowledge, we have everything you need to get stoked (and ready) for the winter season ahead.
AWAKEN
This is the story of three groups of winter adventurers, each dedicated to the pursuit of adventure, each loyal to their home playground. Filmed in three iconic winter locations, AWAKEN follows these adventurers as they are faced with the growing impact of climate change, right in their backyard. Contrasting the happiness we draw from the mountains with the harsh reality of an uncertain future, this film reminds us that the environmental message is truly simple; to adventure is to connect with the wild. It is this connection that empowers us to protect these fragile spaces and inspire others to follow.
Motherload
It is often said that the hardest part of any adventure is getting out the door. Planning and packing are tedious and time consuming. But the moment you cross over the threshold from the distractions of the real world to the freedom of the hills, everything seems to just fall into place. Said no mother ever. Follow professional skiers and mothers Tessa Treadway and Izzy Lynch as they carry the load of loss, life changing events, and the love of their children into the mountains where they find the moments of peace, growth and healing that help them carry on.
Other films include:
Purple Moutains
12,000 KM
and more
The Power of Community: A Pro Athlete Panel & Climate Change Discussion Hosted by Katie Burrell
Friday, November 19, 6:30pm PST
Join us on Zoom for a live panel with professional Canadian skiers and mountain athletes, hosted by the hilarious Katie Burrell. They'll discuss climate advocacy, the effects of climate change in their local mountains and snowpack, and the power of community in creating change. Expect an hour of laughs, climate change chats, and stoke for all things snow.
Panelists include:
MEC and POW Ambassador and two time Olympian Yuki Tsubota
POW Ambassador and pro athlete Greg Hill
POW Ambassador and pro athlete Izzy Lynch
All raffle prizes will be given out at this live event – join us to claim your prize!
Giveaways & more
Raffle Prizes
Each $15 all-access pass includes 4 raffle tickets for you and your household – and great news, you can purchase additional raffle tickets for a better chance of winning one of the awesome prizes. The raffle will take place during the live athlete panel on Friday, November 19, so be sure to join us for your chance to win!
Prizes include:
2 x full Arc'teryx snow kits (worth ~$1600 each)
2 x MEC Label snow gear kit (worth ~$800 each)
POW Canada swag package
$500 MEC gift card
MEC Ski or Snowboard Waxing
Want to support POW and get your skis or board waxed for a discounted rate? We've got you. Add on a $10 MEC ski/snowboard wax (value $15) and all proceeds will be donated directly to POW. There's a limited quantity available, so don't hesitate—make sure you're ready for first tracks.
About POW Canada
Protect Our Winters Canada is a passionate community of outdoor enthusiasts, professional athletes, and industry brands uniting the outdoor community to address climate change. We believe our love of adventure in nature demands our participation in the fight to save and protect it.
Join POW Canada today and be a part of one of the world's fastest-growing climate and environmental advocacy global alliances today.
You can also donate directly to POW and receive a tax receipt. However, donating through this link does not give you access to the event – it's for donations above and beyond your ticket purchase.

Additional Information and Terms
By purchasing a ticket to this event you agree to the following:
Being contacted via email to receive event links and other event communications