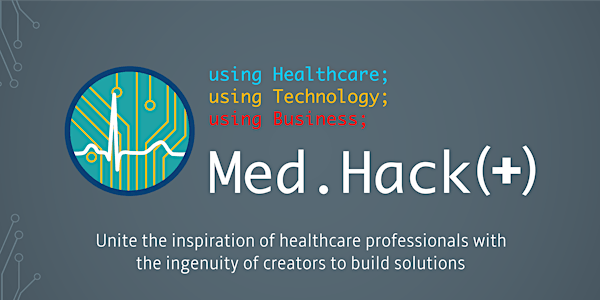 Med.Hack(+) 2022
Med.Hack(+) is an annually held, healthcare themed hackathon, focused on developing solutions to current issues in healthcare.
When and where
Location
Innovation Place 111 Research Drive Saskatoon, SK S7N 2X8 Canada
Refund Policy
Contact the organizer to request a refund.
Eventbrite's fee is nonrefundable.
About this event
We are pleased to announce that Blue Cross is the title sponsor of Med.Hack(+) 2022!
Med.Hack(+) is an event designed to solve problems in healthcare through the use of technology. Brainstorm ideas, form teams, and prototype solutions to real-life issues over the course of 48 hours, guided by local mentors in health, technology, and business.
Throughout the weekend, our mentors and speakers will give you food for thought — not to mention the actual food we provide to fuel your design sessions. Enjoy breakfasts, lunches and dinners at Innovation Place while networking with Saskatoon's community of innovative, driven entrepreneurs, technologists, and healthcare professionals.
Do you work in healthcare? Or are you a patient yourself?
We're looking for everyone across the One Health spectrum: not just physicians and nurses, but also therapists, social workers, paramedics, veterinarians, psychologists, dentists, assistants, dental hygienists, pharmacists, and other specialists. We are also looking for patient mentors for our teams who are willing to share their lived experiences in the healthcare system and help design compassionate, patient-friendly solutions.
Do you know how to code software or build technology?
We welcome engineers of all kinds, coders, developers, designers, programmers, tinkerers, makers, and anyone else who enjoys creating technology. Past years' prototypes were developed using wildly diverse methods and materials, including sensors and circuits, 3D-printed objects, plastic and cardboard, and even recycled machines and vehicles. On the software side, teams have created phone and tablet applications, desktop software, and AI-driven models using cutting-edge techniques.
Do you work in industry?
Ideas and prototypes are only as good as their ability to make it to market. If you have experience in business, entrepreneurism, legal, accounting, or any other sector that facilitates taking an idea and turning it into a commercial opportunity, we want you to attend.
Are you interested in attending the hackathon and seeing the projects, but can't commit to a project yourself?
You are still welcome at Med.Hack(+)! Buy a spectator ticket that allows you to attend part of the weekend.
If any of the above describes you, we encourage you to attend our hackathon, see unique and exciting projects, and help shape the future of health. You don't know what ideas are "brewing in brains" until they've had a chance to materialize. Who knows where this hackathon will take you?
Are you a student?
Make sure you enter the discount code "Student" to get your tickets 50% off the regular ticket price if the tickets are not visible. Make sure to bring your student ID on Friday evening of the event for confirmation.
Attending Virtually?
Make sure you enter the discount code "Virtual" to get your tickets 50% off the regular ticket price. You will not be provided access at the door if you present a ticket you bought for virtual admission.
Standard Admission:
$20 until September 17th
$25 from September 18th to September 22nd
$30 day-of and at the door
Purchase your ticket early and take advantage of our early-bird specials: standard in-person admission (including five meals and snacks over the weekend) is $10 off until September 17th, and $5 off from September 18th to September 22nd. Student tickets and virtual tickets are half price of the active standard admission cost: make sure to bring your valid student ID to registration on Friday night! An observer ticket is $5 with admission for Friday evening and Sunday afternoon.
COVID-19 NOTICE: This year we are please to offer a hybrid event with both in-person and virtual options available. The in-person event will be held at our venue sponsor Innovation Place. For those uncomfortable with the in-person event, please join us virtually. You will still be able to join a team, interact with mentors, and attend the break-out sessions; however, food will not be provided for virtual attendees. In the case that restrictions are put in place that limit our ability to hold the in-person portion of the event, participants will be refunded to the price of the virtual ticket and the event will be held solely virtually. In the event of any other restrictions, event details might change, and we will update accordingly.
Commonly Asked Questions
Please see our FAQ available at
https://drive.google.com/file/d/1klD6BRAZzycLPvgO7f_DpDFxRJUz-TYL/view?usp=sharing
Location Details (In-Person)
Friday 5pm-10pm: Candle Span room, The Atrium at Innovation Place (111 Research Drive)
Saturday 8am-10pm: The Concourse at Innovation Place (116 Research Drive)
Sunday morning 8am-1pm: The Concourse at Innovation Place (116 Research Drive)
Sunday afternoon 1pm-4pm: Candle Span room, The Atrium at Innovation Place (111 Research Drive)
The virtual participation will be held through Webex and a link will be sent to those who purchase a virtual ticket.
Terms & Conditions
By purchasing a ticket to the Med.Hack(+) Hackathon, you agree to the following restrictions, terms, and conditions:
1. I hereby grant Med Hack Enterprises Incorporated permission to use my likeness in a video, photo, or other digital reproduction in any and all of its publications, including but not limited to website, social media, sponsorship materials, and promotional material, without payment or any other consideration.
2. I give permission to Med Hack Enterprises Incorporated to add me to their mailing list with the understanding that I can remove myself from that list at any time.
3. I understand that I will receive non-voting member status with Med Hack Enterprises Incorporated for the remained for the current fiscal year and I will have the opportunity to attend the AGM if I choose.
4. I will not hold Med Hack Enterprises Incorporated liable for incidents or accidents that occur during the Med.Hack(+) Hackathon.
5. I understand that Med Hack Enterprises Incorporated will not retain any rights to intellectual property developed during the hackathon. I am obligated to negotiate the division of intellectual property with my team, and I am responsible for being aware of any agreements that I have with my employers or other organizations regarding my intellectual property.
6. I agree that if there is intellectual property developed at Med.Hack(+) that I wish to pursue, either in an entrepreneurial capacity or through an existing corporation, for a period of twelve (12) months I will not will not, directly or indirectly, alone or with others, individually or through or by a corporate or other business entity in which I may be interested as a partner, shareholder, joint venturer, officer, director, employee or otherwise, own, manage, control, participate in, lend my name to, or render services to or for any business within the continental United States or Canada that is directly and materially competitive with the team that has developed the intellectual property
Full refunds will be issued in accordance with Eventbrite policies, however, we reserve the right to refuse refunds with less than 72 hours notice prior to the start of the event.