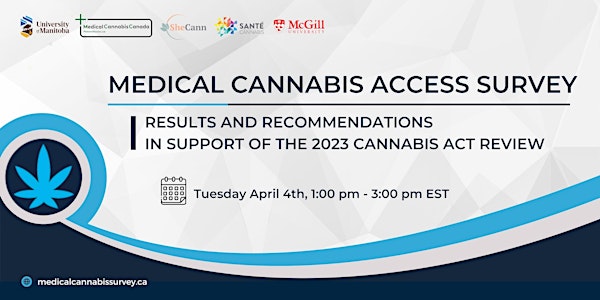 Medical Cannabis Access Survey - Results and Recommendations
Live-streamed presentation going over the results of the Medical Cannabis Access Survey.
Date and time
Tue, Apr 4, 2023 10:00 AM - 12:00 PM PDT
About this event
Event participants will tune into a live-streamed presentation going over the results of the 5,700 respondent Medical Cannabis Access Survey (MCAS) and recommendations to inform the future of cannabis access policy. This study is one of the largest studies focused on medical cannabis access in Canadian history.
The session will include a brief introduction to the history of medical cannabis in Canada, study methods, demographics and results, policy recommendations and a live Q&A with members of the study team, including researchers, healthcare practitioners, and patient advocates.
The Medical Cannabis Access Survey was initiated in 2020 between collaborating institutional researchers and patient organizations in order to understand Canadians' experiences related to medical cannabis access in Canada and how access to medical cannabis could be improved. Study collaborators include the University of Manitoba, patient groups Medical Cannabis Canada and SheCann Cannabis, Sante Cannabis, and McGill University.
The study included 5,744 participants who enrolled and completed an online survey during the data collection period of March-July 2022. Participants answered 90 questions about their experiences accessing medical cannabis. Some participants provided their contact information to be notified about future research and qualitative interviews were also conducted with 40 individuals to better understand experiences around taking and accessing medical cannabis, from which preliminary data will be presented.
Participating individuals were:
16 years old or older
Canadian or a permanent resident
Interested in, or currently taking cannabis for medical purposes, including through recreational sources since 2018
Study objectives included:
To identify the demographics and motivations of individuals to take cannabis for medical purposes;
To understand the differences between individuals who hold a current medical cannabis authorization versus those who take medical cannabis without a medical authorization;
To identify the access patterns, as well as issues and barriers in taking cannabis for medical purposes, including those with or without medical authorization;
To characterise the impacts of the legalization of recreational cannabis on those who take cannabis for medical purposes;
To collect perspectives on the continuation of the medical cannabis access program and recommended reforms; and
To amplify the voices of Canadians accessing cannabis for medical purposes, and to highlight their lived experiences.
Presenters:
Lynda Balneaves, RN, PhD, University of Manitoba, Principal Investigator
Max Monahan-Ellison, Medical Cannabis Canada, Study Collaborator
Ashleigh Brown, SheCann Cannabis, Study Collaborator
Erin Prosk, MSc, Santé Cannabis, Study Collaborator
Michael Dworkind, MD, Santé Cannabis, co-Principal Investigator
Read more about the Medical Cannabis Access Survey here
The authors wish to thank all participants and supporting organizations who contributed to the successful completion of the MCAS study.
This event will be a live recorded webinar. By attending, you acknowledge that as a participant your name may appear in the video recordings taken during the event. If you prefer to attend anonymously, you may do so when joining the Zoom webinar link.
Please note that as topics cover therapeutic uses of medical cannabis, the event is intended for adults.
This event is in English only, if you would like information in French, please email us at etude@santecannabis.ca.
Cet événement est seulement en anglais, si vous souhaitez obtenir des informations en français, veuillez nous envoyer un courriel à etude@santecannabis.ca
About the organizer
 À PROPOS DE SANTÉ CANNABIS
Nous sommes ici pour transformer la médecine en ouvrant la voie à un avenir qui inclut de meilleurs soins aux patients et des meilleurs traitements médicaux au cannabis.
Établis en 2014, nous avons défini les soins aux patients et la collecte de données sur le cannabis médical au Canada et nous soutenons les chefs de file du cannabis médical dans le monde entier.
Reconnus internationalement comme étant à l'avant-garde des services cliniques et de recherche sur le cannabis médical, nous voulons partager l'expertise de notre équipe multidisciplinaire d'innovateurs, de professionnels de la santé, de chercheurs et de personnel de soutien par le biais de réseaux de collaboration.
En offrant des services de première ligne aux patients dans nos quatre sites et avec la télémédecine, nous avons développé un modèle de soins innovateur et une base de données de milliers de patients. Nous offrons maintenant des services de développement clinique et de recherche, allant de la stratégie et de la consultation à la formation des employés et des professionnels, en passant par les essais cliniques et les données du monde réel.
 ______________
ABOUT SANTÉ CANNABIS
We're here to transform medicine by leading the way towards better science, better patient care and better medical cannabis.
Established in 2014, we have defined medical cannabis patient care and data collection in Canada and support medical cannabis leaders world-wide.
Recognized internationally as being at the forefront of medical cannabis clinical and research services, we aim to share the expertise of our multidisciplinary team of innovators, healthcare professionals, researchers and support personnel through collaborative networks.
Through offering frontline services to patients in our four locations and telemedicine, we have developed a leading model of care and a database of thousands of patients. We now offer clinic development and research services from strategy and consultation to staff and professional training, to clinical trials and Real-World Data.