Event Information
Refund policy
Contact the organizer to request a refund.
Eventbrite's fee is nonrefundable.
MEDITATED MONDAYS Join us each Monday at 8:30pm EST as we explore various meditation styles and techniques.
About this event
Each week we will experiment with various meditation styles for the purpose of seeing which methods work best for you, so that you can incorporate meditation into your daily ritual. Take the journey within and join a community committed to wellness and self development.
Next week's meditation = WOMB
---
Meditation in general has so many wonderful benefits, such as stress reduction and less reactivity, better sleep and adrenal balance (to name a few). But many are often intimidated by starting a meditation practice because they have a programmed idea of what they think meditation is supposed to look and feel like. But meditation can come in all shapes and sizes, textures and frequencies. It can remain the same for long stretches of time, or shift each day. 
There is no right way to meditate. What matters is your practice. What creates the transformation is consistency and compassion.
Join us for a simple soul circle this evening as we explore a new way you can begin to set up this powerful ritual and step into the person you envision yourself to be in 2021.
Please arrive on time to ensure the practice isn't interrupted. We will finish off around 9:00 with the option to journal and/or share your experience until 9:15pm.  
***If you are unable to donate, please send us an email to moonstonewellnessretreats@gmail.com and we will happily send you the zoom link.
WHAT YOU WILL NEED: 
1.  AN OPEN MIND
(If you are new to meditation or the style of meditation)
2. A journal and pen
(in case you are inspired to write about your experience afterward, or for journal prompts)
3. A quiet space where you will not be distracted 
(Preferably with some non-toxic candles, or essential oils to set the mood. A yoga mat would also be helpful for this week's class)
We look forward to seeing you there!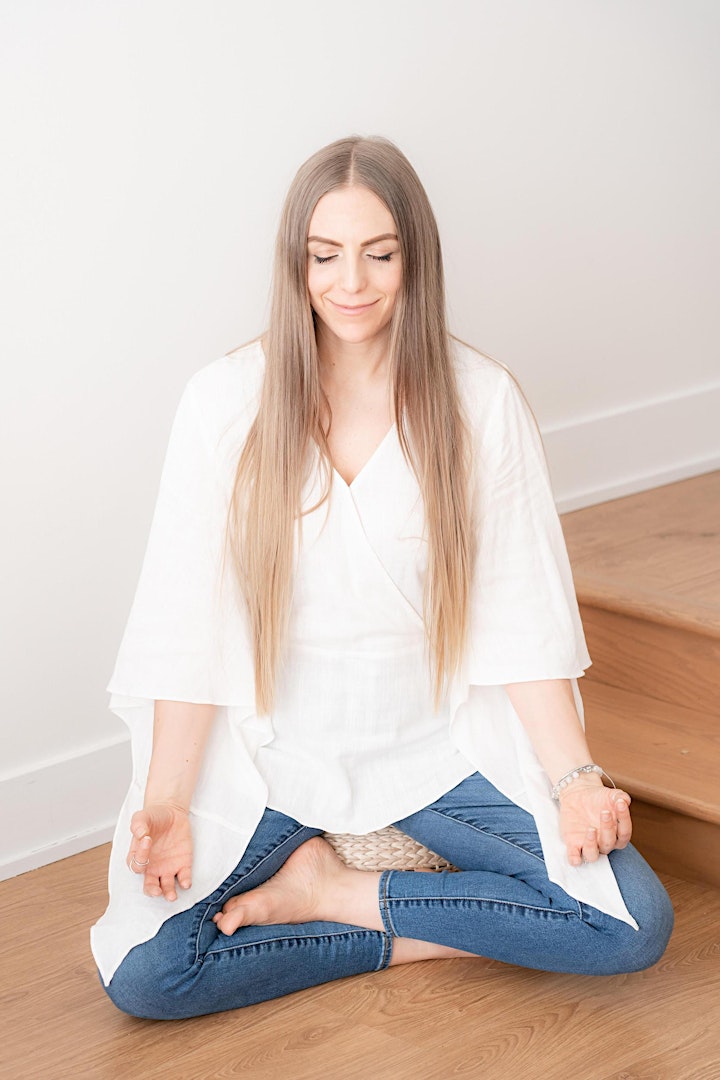 Meditations will be led by our own Jennifer De Rossi. Jennifer is a meditation guide, passionate writer, artist, wife, mother, certified Yoga Teacher, Reiki Master and Soul Coach. She lives and breathes all things wellness, and has been on quite the healing journey ever since her Cancer diagnosis at age 31. If you've attended our previous events (either in person or virtual) you would have experienced her guidance, and know that she feels strongly about sharing her growing wisdom about the many tools, and ways in which we can tune in with the inner compass we all have inside. It is by strengthening our intuition and raising our awareness, that we are able to cater to our individual needs. By further connecting with others who practice these rituals on a regular basis, we can raise collective consciousness and enjoy a happier, more purpose-filled life. 
*Images by Anthony Menecola
Date and time
Location
Refund policy
Contact the organizer to request a refund.
Eventbrite's fee is nonrefundable.
Organizer of Meditated Mondays
The Women Behind Moonstone Collective:
After receiving a cancer diagnosis as a new mom at the age of 31, Jennifer dove head first into the world of wellness. After undergoing a double-mastectomy, she made the difficult decision to opt out of allopathic treatments, and instead, made some drastic holistic lifestyle changes. Despite her consistency however, and the fact that she felt healthier than ever before, she still felt that there was something missing. Delving into any modality of healing she could afford, she soon began to notice a pattern amongst that which worked - the answers were already within her. She simply needed guidance in accessing her own inner wisdom.
Working in one of the top-rated most stressful industries, Ellie has always been mindful of her health from an early age. Creating and coordinating large-scale events as an event planner for over a decade, she knows firsthand the importance of self-care in order to keep her stress to a minimum. Taking the time to schedule in a yoga class, acupuncture session, reiki session, or even just a hot bath, is every bit as important to her as scheduling a client meeting. After experiencing a transition in her personal life over the past year, she has found a great sense of well-being in the wellness community and is hoping to extend her love of wellness with others through events.
After countless nights soul-searching together, Jennifer and Ellie decided to create a safe space of healing and personal growth for others. Healing on seemingly different experiences on the surface, they soon found that everything was relatable when applied to their personal circumstance. Their collective healing is the reason behind starting this community - to remind others that no matter how different our stories may seem, we are all in this together. Combining their love for events and wellness, they bring you incredible experiences from retreats, to meditation circles, to special events and their free Facebook Community Moonstone Collective (https://www.facebook.com/groups/moonstonecollective)