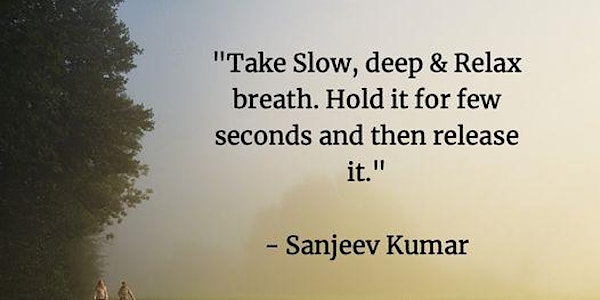 Meditation For Beginners
We are excited to share how to Learn Guided Meditation Practice for Beginners. It is a step by step process .
By Canadian Mindfulness Research Center
Date and time
Fri, Jun 30, 2023 6:00 PM - 7:30 PM MDT
Location
5 Saddlestone Way 308 NE Calgary 5 Saddlestone Way Calgary, AB T3J0S2 Canada
Refund Policy
Contact the organizer to request a refund.
Eventbrite's fee is nonrefundable.
About this event
1 hour 30 minutes

Mobile eTicket
During this Program we educate them about how to do Guided Meditation Practice!!
Live in relax position anywhere. Let go of all thoughts. Close your eyes. The mind is too busy and occupied in the beginning as soon as you close your eyes, gradually it tries to settle down with thoughts. We can bring the sensation of awareness of breath at the top of nostril while breath in and breath out. Top of nostril is called object of meditation practice because you can feel the sensation of breath here. Breath should natural and relaxed.
During meditation practice, it might happen that you are lost in the thoughts of work, husband, wife etc. Let them come and go because you are not the thoughts, but you are an observer. You have to go and visit them without any objection but remember you have to bring your awareness to the breath. It does not matter how many times you are disconnected with it but bring your awareness to the breath is our practice. As soon you come to breath all kind of negative or positive thoughts are not anymore. You can feel calm and relax. A thoughtless awareness created inside in the form of hollowness or emptiness which can help us to pull the energy of the Universe towards you and make things happen in an effortless effort way.
Another aprt of this program si to learn about how to become watcher!!
Witnessing is the key of meditation practice. Let the thoughts come and go. We are observer and watch our thoughts without any judgement whether it is positive or negative thoughts. Let them pass by. The more you try to stop the thoughts the more it reflects. Be still and observe it. It's just like traffic on the road where you can see that cars, buses etc. are coming and going with horns and honks, you do not need to judge them at all. You are just watching it by standing at the corner of road and after some time you can notice that horn and honk is vanished because you bring your awareness of breath at the top of nostril while breath in or breath out. Breath is life force energy which can helps us to live in the present moment and connect with existence. Attention goes where energy flows.
.
About the organizer
We organize workshops in order to improve productivity and maintain health and wellness. These workshops teach us that how we have to slow down, pay attention, and watch our thought emotion which is arising within us instead of reaction. Therefore, we have to witness it without any reaction.
 Mindfulness reduces stress and dissolves negative emotion such as stress, jealousy, hate, anger etc. in order to develop a better relationship with mutual respect, high self- esteem, and love among us. It improves memory, attention, and reduces mind wandering and distraction in order to be less busy, focus, and stay on work.
 We educate people about breathing meditation technique as well. It helps us to create a fragrance of self-love and compassion. Meditation help us to break down our limiting belief system and transcend ego. It also helps us to recharge our battery and connect with the Universe.