Event Information
Refund policy
Contact the organizer to request a refund.
Eventbrite's fee is nonrefundable.
Laissez vous porter par les vibrations sonores harmonieuses des Bols Tibétains pour recevoir l'abondance que vous offre la saison estivale.
About this event
MÉDITATION DE SOLSTICE
POUR ACCEUILLIR L'ABONDANCE.
"La célébration du solstice d'été est aussi ancienne que l'est l'humanité, cette période est chargée de pouvoir, de magie et de superstition. Traditionnellement, les agriculteurs remerciaient l'été, les récoltes, les fruits et pour disposer de plus d'heures pour accomplir leurs tâches et profiter de la vie en s'amusant. C'est également le bon moment pour demander la fécondité de la terre et mêmes des hommes. "
Je vous invite à nous rejoindre dans un espace temps harmonieux et propice à la manifestation de l'abondance que nous offre la saison estivale.
ivibsound vous portera par ces mélodieuses vibrations sonores avec ces Bols Tibétains et autres instruments vibratoires pour une méditation sonore.
Je vous accompagnerai pas une méditation guidée.
Et une intro aux huiles essentielles pure et au taux vibratoire très élevé de dōTERRA , qui peuvent vous accompagner et vous aider à gérer vos émotions et les manifestations de votre corps physique vous seront présentées.
Diminuer:
Les réactions impulsives
Les peurs et l'incompréhension
Le mental agité et l'angoisse
Le sommeil souvent perturbé par la phase lunaire
Augmenter:
Votre capacité de concentration (focus)
Votre état de pleine conscience
Votre courage
Votre énergie positive
**************************************************************************
Votre trousse d'huiles essentielles pour optimiser votre expérience de méditation.
2 options s'offre à vous!
TROUSSE YOGI
TROUSSE Initiation Yoga & Méditation
Écrivez à info@mandalapaz.com pour commander et connaître les détails.
****** Commander avant le 20 MAI pour recevoir vos huiles à temps! *******
**************************************************************************
Déroulement suggéré:
16h00 : Les huiles essentielles dōTERRA (Victōria Terra - eve et Aroma Montréal)
16h20: Méditation guidé par Eve-Victoria de Mandala Paz
16h40: Méditation sonore avec ivibsound
17h00: Retour à soi
TARIF : 15$ *
*Inscrivez-vous avant le 09 MAI et recevez une huile méditative en cadeau !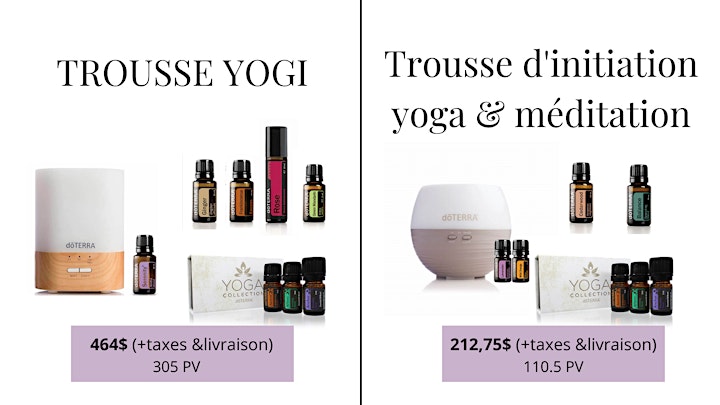 Date and time
Location
Refund policy
Contact the organizer to request a refund.
Eventbrite's fee is nonrefundable.