Participants will engage with the artist to create a small art piece using the concept of meditative stitchery on a swatch of handmade felt.
About this event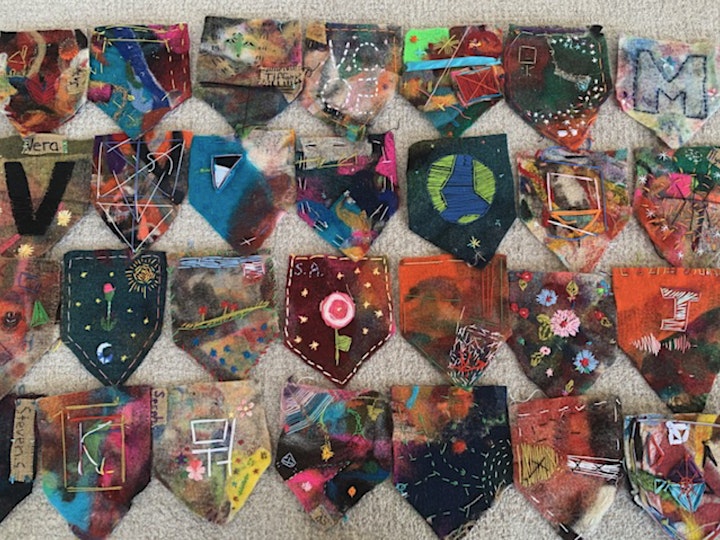 In this introduction to the world of stitch, participants will learn the applications of needle and thread not only as an art form but also as an important life skill. To meditate on stitching in order to focus thought and contemplation is one of the goals of this workshop.
Textile art is easily transported, and materials are not expensive. It is possible to create something useful and practical, or simply for the joy of creating. Stitching has this magical way of keeping us in the moment, allowing the artist an opportunity for quiet contemplation. Moments of peace and calm in the midst of all that is going on around us is crucial for striking a balance in life. By hand stitching we are connecting our hands and hearts with a purpose. Designing in such a manner, one can slip into a meditative state, not worrying about patterns or making a mistake, but simply carrying the thread forward.
Using simple tools, a large sewing needle and mixed colourful embroidery threads, participants will create shapes, line and design imagery on a pre-felted handmade textile. All materials will be provided.
Organizer of Meditative Stitching on Felt Workshop with Melanie Siegel (Tuesday)
Muskoka Chautauqua is a community for the curious and the creative. Springing from a tradition that started 100 years ago, when the village of Windermere attracted North America's leading thinkers to its shores, Muskoka Chautauqua is one of the longest-running and more iconic cultural institutions in the region. Muskoka Chautauqua is a not-for-profit organization fostering arts and culture, culminating in a summer festival in the historic village of Windermere.