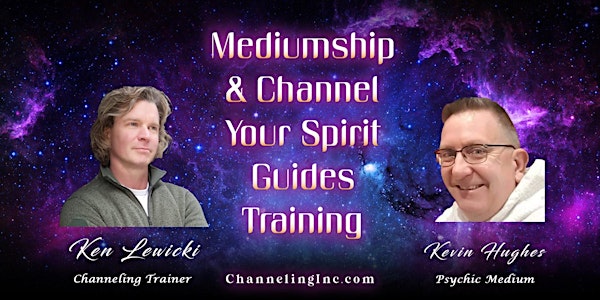 Mediumship & Connect With Your Spirit Guides Training
Come out for a Night with Spirit (Mediumship with Kevin Hughes) and Learn to Channel your Spirit Guides (with Ken Lewicki ChannelingInc.com)
When and where
Location
Genesis Place 800 East Lake Boulevard Northeast Airdrie, AB T4A 2K9 Canada
About this event
To begin the evening, you will receive a Mediumship demonstration by one of Ken Lewicki's students, Kevin Hughes. For the first 30 minutes, Kevin gets up close and personal; taking guests on a spiritual journey by reconnecting them with their loved ones in spirit, as well as their spirit guides, and validating proof of the afterlife in real-time. From heartfelt emotional readings to stunning revelations, Kevin Hughes will have you on the edge of your seats with his humorous and unique approach. His readings lead guests through a rollercoaster of emotions from laughing to crying with stunning detail.
For the remaining 90 minutes, Ken Lewicki will train people on how to channel their spirit guides. With nearly two decades of training, Ken will share his Channeling expertise. This workshop is for beginners and advanced people alike. We all have spirit guides, and Channeling is the foundation for all spirituality. You will learn advanced spiritual techniques in this workshop including:
• Channel at least two of your Spirit Guides
• Know how to tell the difference between your individual Spirit Guides
• What areas of your life your guides are here to help you with
• How to decipher powerful messages from your Spirit Guides
• How to protect yourself and channel safely
• Interactive Q&A throughout the training
• Become empowered to channel on your own – Be Your Own Psychic!
Most people have between 3-5 Spirit Guides during any one season of their life. As you learn to channel your guides, you will discover how each one is here to help you with different areas of your life. This workshop will teach you how to make spirituality fun AND practical!
Note: This is NOT a lecture. It is "experiential" training the whole way through. You will actually "experience" how to channel by the end of this class. You will also be empowered to take the skills you've learned and start applying them immediately. Learn the ABCs of Channeling and SO much more!
Limited seating. Register early, come alone, or feel free to invite someone. Everyone 14+ is welcome <3
Details:
When: October 5th, 7-9pm
Where: Genesis Place, 800 East Lake Blvd NE, Airdrie, AB – Rotary Room upstairs
Register: To not exceed fire code regulations, please purchase tickets in advance. See link below. Limited seating. Register early!
** NOTE ** You can purchase tickets at the door if there is still room available.
If you know someone who also might like to attend, please share this link with them.
If you would like to attend any of Ken's workshops or other events, see links below for more info:
Intro Channeling Workshop – Thursday, September 8th
facebook.com/events/731012134817864
Animal Communication Training - Certification Workshop – Sept 10-11, Sat/Sun
facebook.com/events/327920266069879
Channeling Level 2 – September 17 - 18, Sat/Sun
facebook.com/events/740944167226588
Channeling Level 1 – September 24 - 25, Sat/Sun
facebook.com/events/753099102777440
Ask Ken of ChannelingInc.com – Wednesday, September 28th
facebook.com/events/392308039644929
Intro Animal Communication Workshop – Thursday, September 29th
facebook.com/events/1109830392974697
Mediumship & Connect With Your Spirit Guides Training – Wednesday, October 5th – Airdrie
facebook.com/events/636718474398557
https://www.eventbrite.ca/e/mediumship-connect-with-your-spirit-guides-training-tickets-411271302537
Channeling Level 2 – October 15 -16, Sat/Sun
facebook.com/events/787429785717533
Intro Channeling Workshop – Wednesday, October 19th
facebook.com/events/758301952098884
Ask Ken of ChannelingInc.com – Wednesday, October 26th
facebook.com/events/2189570871214559
Intro Animal Communication Workshop – Thursday, October 27th
facebook.com/events/475779347460078
Channeling Level 3 – October 29 - 30, Sat/Sun
facebook.com/events/615923186623696
When Kevin's mom was 8 months pregnant with him, his dad crossed over due to cancer. In his younger pre-teen years, Kevin would have dreams of his dad, where they would sit on a marble staircase in front of a tall building and have deep conversations. When he became a teenager these "dreams" stopped. Decades later, Kevin was reading a Sylvia Browne book where she was describing her experience on the other side. It was almost identical to Kevin's "dreams". At that moment, he realized the dreams he had with his dad were actually visits to the other side. It wasn't until 2020 that Kevin decided to hone his skills by taking Ken Lewicki's Channeling Courses. After completing Ken's Channeling Level 2 workshop, Kevin started to give Mediumship and Spirit Guide Readings. Prior to taking Ken's Channeling Level 3, Kevin had completed approximately 50 readings. He knew, without a doubt, that this was what he was meant to do. He started his Kevali Channeling business in October of 2020 and has now completed 100's of readings.
In 2004, Ken Lewicki taught himself how to channel his deceased father. Over the years, Ken honed his abilities to channel souls, ascended masters, angels, and archangels, amongst others. What took him over a decade to master, Ken now teaches in one-on-one sessions and in large workshops around the world. He teaches Psychics, Mediums, and Channelers how to enhance their abilities. He instructs practitioners from novice to advanced on how to become leading-edge in their industry.
*** Check out the "About" tab at facebook.com/KenLewickiChanneling events or ChannelingInc.com for more info and to learn how to master the foundation of spirituality – Channeling!
#love #channeling #channeler #spirtuality #spiritual #awakening #spirit #SpiritualAwakening #consciousness #AkashicRecords #Reiki #empath #training #development #angels #spirit #guides #healing #metaphysical #Medium #Mediumship #Psychic #author #facilitator #KenLewicki