Meet Jun Lin, Your Ward 3 Councillor Candidate Saturday, July 24 from 4 pm - 7 pm
About this event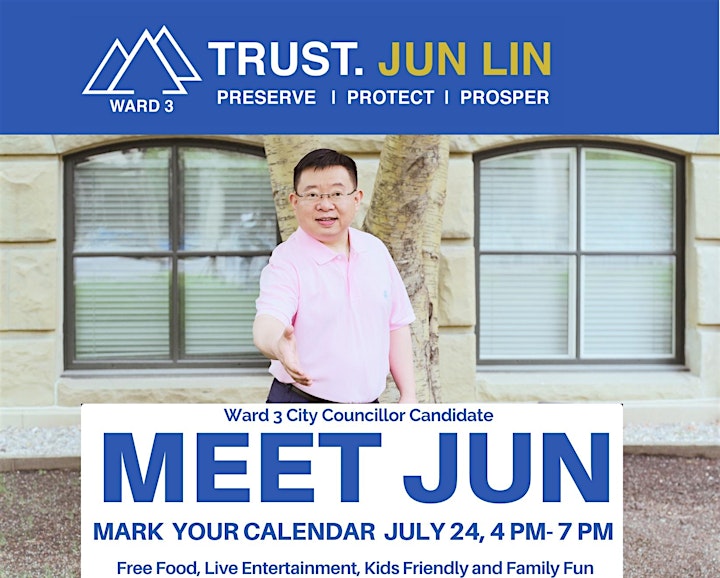 I am inviting you, and your family, friends, and neighbours to come meet and chat with me on Saturday, July 24 from 4 pm to 7 pm. There will be food, live entertainment, and family fun. Most importantly, I want to meet and hear from you.
Why I am running?
Over the past 5 years, I have door knocked on tens of thousands of doors in and around Ward 3. There's two things that stood out and that were consistent across the ward.
Firstly, the fighting spirit and the never-give-up attitude. Ward 3 residents believe in Calgary, and are doing everything they can to make Calgary successful. Whether it is trying to keep their businesses afloat and their employees employed during these trying times to parents doing everything they can to keep their children's lives as normal as possible. I understand because I also believe in Calgary and Calgarians, and I want to contribute to our greatest comeback yet.
However, I also repeatedly hear that our council does not listen. What many residents have told me is that they are frustrated with the council, and their impractical ideas and policies. They implement job killing taxes by hiking property taxes so that they can fund vanity and ideological projects.
I believe Ward 3 deserves a councillor that you can TRUST to have your back. I am running to earn your TRUST, and I ask that you TRUST me to always put Ward 3 first.