Sales Have Ended
Registrations are closed
Sorry you missed our meet & greet! You can join us every Monday at 11:00 AM MST to learn about chata.ai. Register here: https://zoom.us/webinar/register/WN_q0YNfd-WQVGQlF1f_rShnA
Sales Have Ended
Registrations are closed
Sorry you missed our meet & greet! You can join us every Monday at 11:00 AM MST to learn about chata.ai. Register here: https://zoom.us/webinar/register/WN_q0YNfd-WQVGQlF1f_rShnA
Description
Hello Calgary business! Join our meet & greet with chata.ai
Join us for a lively discussion about Calgary's latest artificial intelligence company chata.ai. More important, we'll show you how chata.ai can help you grow your business – untapping the true value of your business data. And, we'll hear from an experienced technology consultant on the importance of automating and how businesses of any size can capitalize on tech using three key, affordable software tools.
In this webinar you will learn:
- What is chata.ai and the value to your business
- Where we are going, the future of chata.ai
- Easy, affordable ways you can use tech to efficiently run your business and make better business decisions.
- How you can help Calgary get recognized as a global leader in tech
chata.ai is a fast-growth, AI SaaS startup, based in Calgary. Rapidly expanding across the cloud accounting ecosystem in North America, Australia and the UK, the company is built upon highly advanced AI technology including a proprietary Natural Language Understanding (NLU) engine. The company vision is to become the "Hub" for all business data interaction, disrupting the way everyday business owners get answers from their data.
Speakers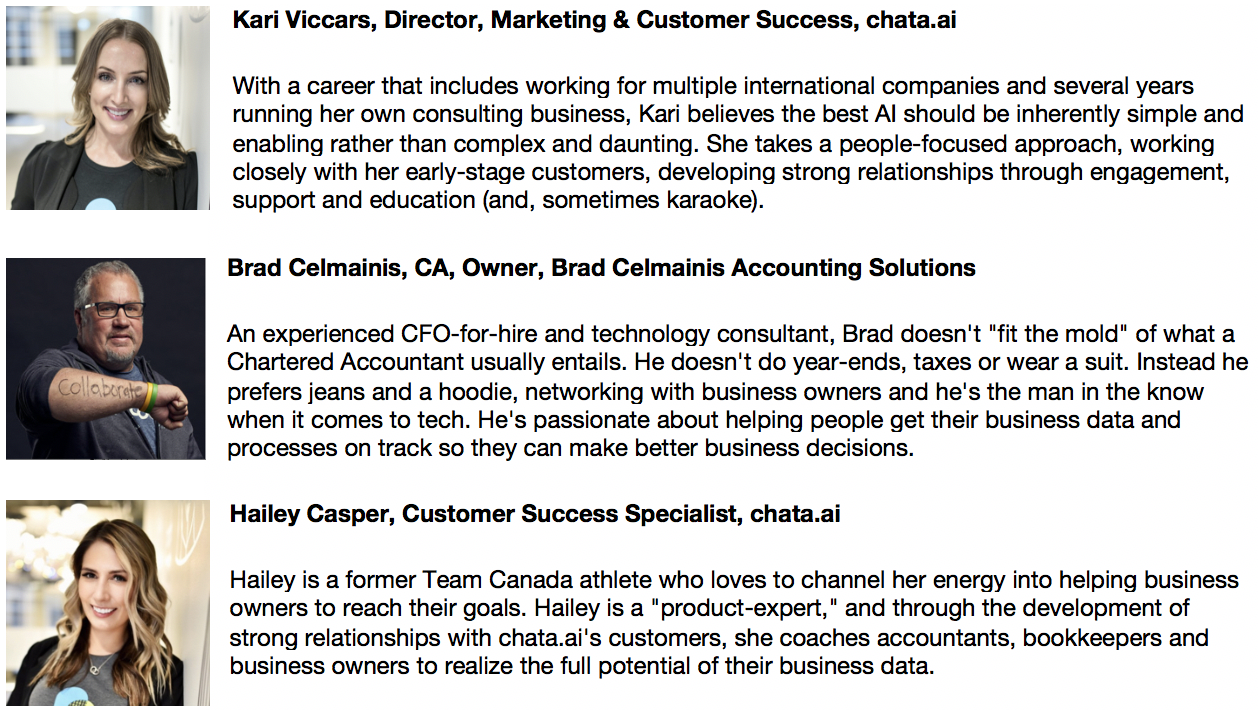 You will recieve a link via email to join the webinar once you have registered for the event.
Calgary Chamber of Commerce members receive a 50% discount off chata.ai Premium for one-year. (regular price - $25/ month paid annually)
More about chata.ai
Every business has data. Using this data to make informed business decisions is critical, but it's often not that easy. As a result, answers to operational business questions often go unanswered, take a long time to source and cost extra fees. Until now.
With the mission of giving everyday people easy access to answers from their business data, chata.ai is the perfect tool for any business owner with a growth mindset. This simple-to-use, conversational, reporting and analytics tool that does your data "dirty work". No more complex calculations, searching through spreadsheets or waiting for answers. chata.ai connects directly with your cloud accounting software and allows you to chat with your data – even from your mobile device.
chata.ai is a Calgary-based AI software company. We believe in and support the growth of all small businesses in Calgary. As such we are happy to offer the Calgary Chamber of Commerce members a 14-day free Premium trial and a 50% discount on chata.ai Premium for 1 year (regular price $25/ month). We'll also get you started with a personal demo and YYC VIP onboarding service. Schedule the best time for you here.
chata.ai currently connects with QuickBooks Online and Xero with several more integrations planned including Stripe, Shopify, Sage Cloud and more.