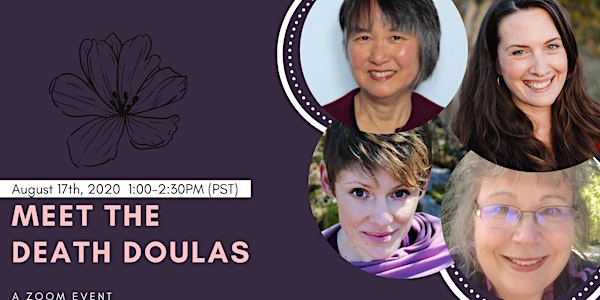 Meet the Death Doulas
Get to know Death Doulas Kate Irving, Chelsea Peddle, Jenafor Ryane and Sachi Tamura at this engaging event, from the comfort of your home!
About this event
We'll demystify the role that this essential member of an end-of-life care team plays by demonstrating some of the ways we support individuals and families including:
* exploring your mortality and relationship with spirit
* preparing for end-of-life
* leaving your legacy and,
*completing your life with compassion, love and dignity
Bring your questions and curiosity!
This is a free event via Zoom for anyone who is curious about Death Doulas and end-of-life care.
Please note that you will receive the Zoom meeting details in the confirmation email after registering for the event. You must scroll down to the section titled "Additional Information" to find the Zoom information.