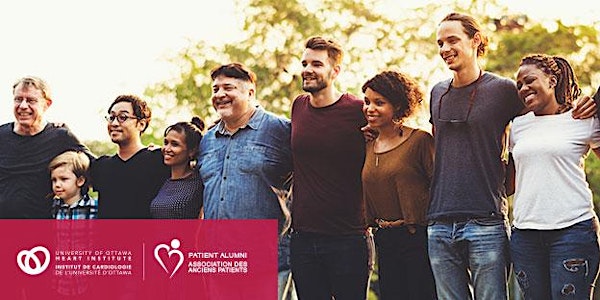 Meet the Expert-A Woman's Heart/Au coeur de l'expertise-Le coeur des femmes
A WOMAN'S HEART – The Truth About Women's Heart Disease / LE CŒUR DES FEMMES – La vérité sur la maladie du cœur au féminin
When and where
Location
The Canal Ritz 375 Queen Elizabeth Drive Ottawa, ON K1S 5M5 Canada
About this event
SOLD OUT
Due to the overwhelming response to the Meet the Expert event "A Woman's Heart: The Truth About Women's Heart Disease" that will take place on February 25th, this event is sold out. We will endeavour to organize a similar event as soon as possible and we will keep you informed.
Thank you for your interest.
Men and women are very different when it comes to matters of the heart, and that's just as true for matters of heart health. Come out to better understand how to prevent women's heart disease or improve your chances of surviving it to lead a healthy life. Enjoy this opportunity to chat with experts on women's heart health and patients alike!
___________________
LES BILLETS ONT TOUS ÉTÉ VENDUS
Nous nous excusons mais en raison de la réaction extrêmement favorable que nous avons obtenue, tous les billets sont vendus pour la conférence du 25 février « Le cœur des femmes - La vérité sur la maladie du coeur au féminin ». Nous nous engageons à tenir un événement similaire dans le futur raproché et nous vous tiendrons au courant.
Merci de votre intérêt.
Si les hommes et les femmes sont très différents côté cœur, il en va de même en matière de santé cardiaque. Joignez-vous à nous pour mieux comprendre comment prévenir la maladie du cœur ou améliorer vos chances de survie grâce à l'adoption de saines habitudes. Profitez de cette occasion pour discuter avec des expertes et des patientes!