Meet the Faculty - Broadcasting & Online Media at VanArts
Want to pursue a career in broadcasting? Bring your questions for a live Q&A webinar with our industry professional faculty at VanArts.
About this event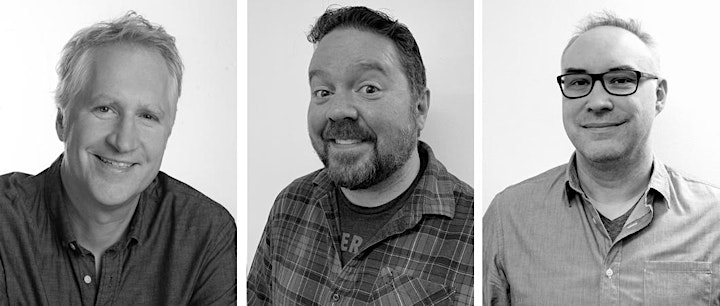 MEET YOUR MENTORS
Why choose VanArts for broadcasting? It's because of the industry professionals you learn from, and the experience they have to share. They will become your guides, teaching you the craft and having the power to recommend you for work in: RADIO - TELEVISION - PODCASTING - VIDEO PRODUCTION - SOCIAL MEDIA - and much more!
Martin Strong (left) is the Head of our Broadcasting & Online Media Department, and your instructor for courses like Radio Production and Writing & Storytelling. A media veteran with more than 20 years on Vancouver radio, Martin has worked with CBC, CFOX, Rock 101, and Roundhouse Radio. In 2017 he won the West Ender's Readers' Choice Award for Best Local Radio Personality, and today he is the narrator for The Discovery Channel's TV series Jade Fever.
Luke Pigeon (center) will be teaching you in courses for Radio & Media Production, sharing his knowledge from over 20 years in broadcasting and journalism. He has worked in technical producing and directing roles for CiTR FM at University of British Columbia, CKNW, Rock 101, CFOX, and Roundhouse Radio. He is also the lead vocalist for the band storc and an active member of the DJ collective Knights of the Turntable.
Patrick Sauriol (right) is your instructor for Social Media in the Broadcasting program. A pioneer from the early days of the internet, Patrick started Coming Attractions, one of the first websites to focus on the movie industry, which brought him accolades from IGN and the Webby Awards. He has also served as executive director for DigiBC, supervised digital marketing and social media campaigns for numerous companies, and directs marketing for VanArts.
Register Today - and check your time zone
Register now and we'll e-mail you with reminders & links to access the webinar - it's streaming live on Facebook and YouTube at 5pm Pacific Time - Wed April 21.