Meetup #75: Augmented Reality. A Primer.

Tuesday, 12 January 2016 from 7:00 PM to 10:00 PM (EST)
Event Details
Tuesday, January 12, 2016 | 7:00 pm to 9:30 pm | Milton Education Village Innovation Centre, Milton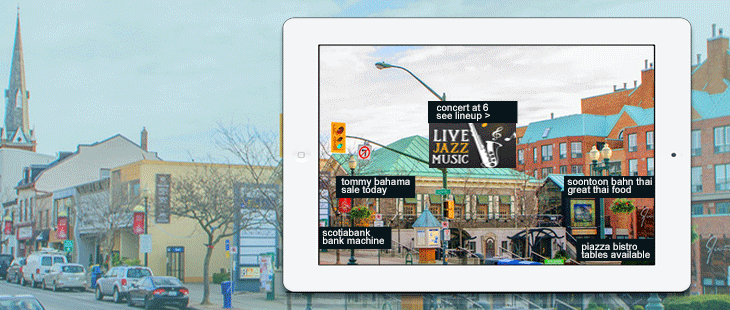 Virtual Reality vs Augmented Reality … What's the Difference?
There's a lot of hype and buzz when it comes to Virtual Reality (VR) especially when Facebook bought Oculus for $2B. Digi-Capital projects the VR market to be worth $30B (source) in 2020. So, maybe, Mark Zuckerberg wasn't so crazy shelling out billions!
But, what about Augmented Reality (AR)? Is there a market opportunity there as well? What is Augmented Reality and how is it different from Virtual Reality? More importantly are there any local entrepreneurs, developers and professionals working in the Augmented Reality field? The answer to each of these questions are YES!
Learn About the AR Market and Meet Local AR Experts
In this meetup you'll learn about the AR market opportunity (hint: it's bigger than VR), the industries that are adopting it and specific applications of AR today and potentially in the future.
You'll also meet two local leaders in the AR field who will share their experiences, knowledge and point of view about the AR industry and where it's heading. They'll also cover and demonstrate some of the cool products and projects they're working on today.
Presenters
Chris Herbert
Chris is the cofounder of Silicon Halton and founder and CMO of Mi6 Agency. Mi6 Agency is a B2B technology marketing and customer development firm located in Oakville.
In his presentation he will give an overview of the AR market opportunity and provide some examples where AR is gaining market traction.
Ben Zimmer
Ben is the CEO of Enable Education. Ben's company defines, develops and delivers innovative courseware resources for 21st Century learning. Their talented team includes educators, web and app developers, programmers, audio/visual producers, graphic designers, and technical writers. Theyproduce teaching and learning technology and resources ranging from print materials, to mobile apps, to augmented reality programs, intended to reach learners from preschool to industry professionals.
In his presentation Ben will talk about the present state and future impact of AR in the education space - both for students in K-12 and College/University, as well as professional training. Using a couple real-world examples, Ben will show how AR can be transformative in engaging, as well as meeting the varied needs of all kinds of learners.
Ben will demonstrate a web-based Augmented Reality Management System (ARMS) which makes it easy for companies of all sized as well as authors to benefit from AR.
Derek Lee
Derek is the cofounder of Solace Media Group Limited, a consortium of high end boutique digital media Studios located in Asia. Solice Media Group is building a strategic partnership in a collaborated effort to provide clients with innovated media content, that would allow them stand out in a globally competitive ecosystem. Their regional partners specialize from pre- visualization, animation production, app development as well as work with various innovative and dynamic media contents.
In his presentation Derek will talk about the present state of AR as a marketing tool for businesses and consumers. Using real-world examples, Derek will show how AR can be an engaging marketing tool while providing analytics for business to understand their customer behaviours.
Derek will be showing a sneak preview of a cost effective AR solution that allows businesses with various budgets to display dynamic content to their customers
Format
Each presenter will have 15 minutes of presentation time and then will join in on a 15 minute panel discussion. Audience participation is welcomed and encouraged through the presentations and panel discussion! 

Attendee List
Sort by:

Date

|

First Name

|

Last Name
When & Where

Milton Education Village Innovation Centre
555 Industrial Drive
Milton, ON L9T 5E1
Canada

Tuesday, 12 January 2016 from 7:00 PM to 10:00 PM (EST)
Add to my calendar
Organizer
Silicon Halton is the grassroots hi tech community of people who make a living, make meaning, & make things happen in technology in Halton Region, Ontario. Everything we do and stand for is based on our three pillars: Technology, Community, & Growth.
Check out our:
 Imagine the possibities of connecting with your local tech community! For more information, please contact info@siliconhalton.com
Note: By registering for a Silicon Halton event, you agree to allow Silicon Halton Inc. to add your email address to our mailing list so as to inform you about future Silicon Halton events. Un-subscribing, if desired, is then one click away.