MEEX 5 à 7 : Réseaux sociaux / Social Media

Wednesday, June 22, 2011 from 5:00 PM to 7:00 PM (EDT)
Event Details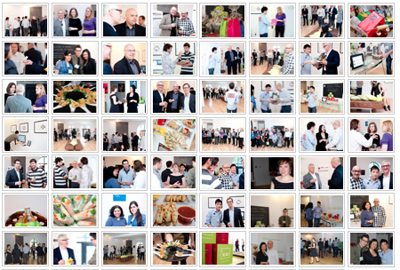 Twitter hashtag: #Meex
Location :  969 St-Timothée, unit 102. Montreal. H2L 3N2
MEEX 5 à 7 revient pour une deuxième fois le 22 juin 2011. En plus d'aggrandir leur réseau de contacts, les participants auront l'occasion d'apprendre davantage sur les médias sociaux avec un discours de deux conférenciers invités qui partageront leur expertise sur le sujet.

MEEX 5 à 7 Networking event is back for its second edition on Wednesday, June 22 2011. Guests will have the chance to learn more about social media and its use with the participation of two guests speakers who will share their knowledge throughout the evening.

En plus des amuse-bouches et boissons servis, des certificats cadeaux et d'autres prix seront tirés tout au long de la soirée.
Amuse-bouches and drinks will be served. There will also be a live draw where attendees will have the chance to win gift cards and other fabulous prizes!

Une partie des profits ira à AIDS Community Care Montreal (ACCM).
Parts of the profits will go to AIDS Community Care Montreal (ACCM).
-------
Conférenciers / Speakers :
• Stéphanie Fortin
Chef, marketing et relations publiques / Chef Marketing and PR Officer
Totalmédia, une filiale de la Fondation Lucie et André Chagnon
http://www.passeportsante.net  •  http://www.naitreetgrandir.com
Stéphanie Fortin est chef marketing et relations publiques de Totalmédia inc., un organisme à but non lucratif financé par la Fondation Lucie et André Chagnon qui publie les sites PasseportSanté.net et Naître et grandir.com.
Après avoir travaillé 15 ans en tant que directrice-conseil en agence de publicité, Stéphanie s'est ensuite spécialisée en Web marketing en se joignant à l'équipe de Totalmédia inc. il y a 6 ans. « Il faut d'abord établir une bonne stratégie avant de se lancer dans les médias sociaux ! En quoi les tactiques de Naître et grandir.net diffèrent-elles de celles de PasseportSanté.net ? »

Stéphanie Fortin is the marketing and public relations manager at Totalmedia inc., a non-profit organization financed by the Lucie and André Chagnon Foundation which publishes the PasseportSanté.net and Naître et grandir.com Web sites.
After 15 years of working as an advertising account director, Stéphanie specialized as a Web marketer by joining the Totalmedia team 6 years ago. "Before getting into social media, one must establish a good strategy! How do tactics for Naître et grandir.net differ from the ones for PasseportSanté.net?"
• Ray Hiltz

Ray voue à la communication une passion de longue date. Qu'il écrive un scénario pour une comédie musicale, un communiqué pour un office de tourisme, un menu pour un restaurant ou une demande de subvention pour une compagnie théâtrale, il a toujours su utiliser les mots pour amuser des spectateurs, informer le public et stimuler les ventes.
Fort de ses nombreuses années d'expérience en gestion des affaires, Ray aide les propriétaires de petites et moyennes entreprises qui veulent optimiser leur marque, augmenter leurs revenus et améliorer leur milieu de travail à utiliser les médias sociaux efficacement.
Pour en savoir plus à son sujet, lisez son blogue sur le site newraycom.com ou suivez-le sur LinkedIn, Facebook, Twitter, YouTube et autres canaux : vous n'avez qu'à ajouter newraycom à l'URL et vous le trouverez...

Communication has always been a passion for Ray. Whether writing books for musicals, press releases for tourist boards, menus for restaurants or grant applications for theatre companies, Ray has used words to entertain, inform and increase revenues.
Ray taps into his many years of business management to help small to medium sized business owners use social media effectively to optimize their brand, their revenues and their workplace.
You can find out what he's up to on his blog: newraycom.com and be his pal on LinkedIn, Facebook, Twitter, YouTube...well, you get the picture.  Just add newraycom to the url and you'll find him.


-------
MEEX est un événement de réseautage organisé par Evenkai - organisateur d'événements.
MEEX is a networking event organized by Evenkai - an event planning service provider.
-------
Commanditaire de l'événement / Event Sponsors :
• KAI Design & Communication / @kaidesignstudio / Facebook page
• DAVIDsTEA / @DavidsTea / Facebook page
• SocialMediaBreakfastMontreal / #SMBMTL / Blog
• Strom Spa / Facebook page

• Bière Boris / Facebook page

**Aimeriez-vous présenter un produit et un service lors de cette soirée? Communiquez avec nous : info@kaidesign.ca / Would you like to showcase your products or services during the event? Inquire about sponsorship opportunity! info@kaidesign.ca 

Have questions about MEEX 5 à 7 : Réseaux sociaux / Social Media?
Contact Evenkai
Attendee List
Sort by:

Date

|

First Name

|

Last Name
When & Where
969 St-Timothée, unit 102.
Montreal, H2L 3N2
Canada

Wednesday, June 22, 2011 from 5:00 PM to 7:00 PM (EDT)
Add to my calendar
Organizer
Event planning service provider. We organize art, media and business networking related events on a monthly basis. To promote and support Montreal's arts and design scene.