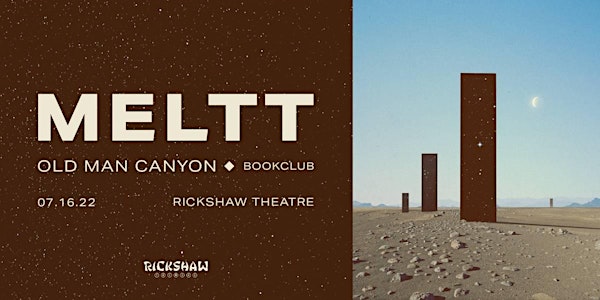 Meltt with Old Man Canyon and Bookclub
Performers
Meltt
Old Man Canyon, Bookclub
Location
Rickshaw Theatre
254 E. Hastings Street
Vancouver, BC V6A 1P1
Canada
Join Vancouver's own Alterna-psychedelic rock band Meltt as they take the Rickshaw stage with support from Old Man Canyon and Bookclub.
About this event
Due to unforeseen circumstances the Meltt show at the Rickshaw Theatre on July 16th has been cancelled.
All tickets have been automatically refunded.
Meltt
a mind-bending alternative-rock band with a love for heavy riffs, colourful instrumentation, detail-oriented production, and under it all, multi-layered song-writing. Let them sonically paint your soundscape and sweep you into an ethereal dream.
Old Man Canyon
Born from the inner mind of front man and Vancouver-native Jett Pace, Old Man Canyon emerged on the alternative scene in early 2012. The debut EP Phantoms and Friends earned rave reviews from the likes of AudioTree, "Their authentic approach to musical creation puts poignant thoughts above contemporaries. The willingness to break folk rules contributes to this authenticity." Songs from the EP were featured in the MTV series Awkward, Showtime's Shameless, Bravo's Suits, ABC's Pretty Little Liars, and FX's Sons of Anarchy. The band also received notable praise from celebrity blogger Perez Hilton, and the title track reached over a half million views on YouTube.
Bookclub
Bookclub is a safe alternative to "rock and roll" music. Coming from the depths of Vancouver.
RVSP On Facebook [link to be added]