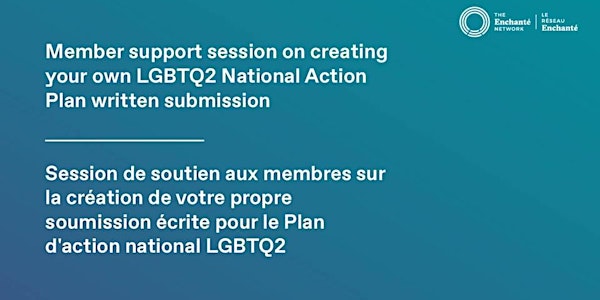 Member Support Session: LGBTQ2 Action Plan Written Submissions
Member Support Session: LGBTQ2 Action Plan Written Submissions
About this event
*** Pour l'evenement en français, veuillez voir la page ici: https://www.eventbrite.ca/e/session-de-soutien-soumissions-ecrites-du-plan-daction-lgbtq2-tickets-153824020787
The federal government is accepting written submissions to influence the creation of the first-ever national LGBTQ2 Action Plan. The deadline for submissions is May 31st. This is a really important opportunity to influence how the federal government supports 2SLGBTQ+ communities.
We are encouraging our members to complete their own submissions, so we are hosting this event to help our members write their submissions.
We will we be here to answer your questions on federal policy and funding related to 2SLGBTQ+ communities and to go over what makes a strong written submission. We will also be sharing what the Enchanté Network is putting in our own written submission. 
-----------------------
Key links:
Here is the submission guide: https://www.canada.ca/en/canadian-heritage/campaigns/free-to-be-me/lgbtq2-action-plan/online-submission-guide.html
Here is the link to make a submission: https://pch.survey-sondage.ca/f/s.aspx?s=0E364CB3-AABE-4137-99C2-471ACEB08A91〈=EN
**Note: the format is a clear-cut form and not a long, daunting essay!