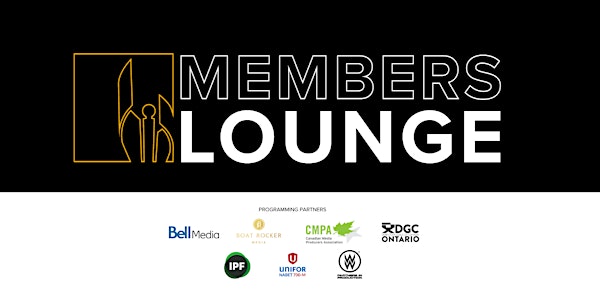 Members Lounge 2021: Public Tickets & RSVP
Join the screen industry's boldest leaders and creators at this year's Members Lounge conference, with panels and filmmaker Q&As.
Refund Policy
Contact the organizer to request a refund.
Eventbrite's fee is nonrefundable.
About this event
For members of the Academy, CMPA & DGC Ontario, please register HERE.
Join us from Monday, May 10th to Friday, May 14th at the 2021 Members Lounge, featuring interactive panels where screen veterans and vanguards share their top takeaways from the past year of innovation and reinvention.
This year's Members Lounge celebrates and learns from the industry's boldest leaders that are paving the way, seizing opportunity, and moving forward with integrity, diversity, and authenticity.
For full schedule details, visit the Members Lounge website.
Not yet a member of the Academy? Join here to gain free access to ALL Members Lounge 2021 events and join a community of industry professionals across Canada.
Panel tickets can be purchased for $10 each. Panels include:
The Future of Entertainment: Creating Content that Resonates (Presented by Boat Rocker Media)
Home Team Advantage: Fostering a Canadian Talent Ecosystem (Presented by Canadian Media Producers Association)
Peer to Peer: Short Form Content Development from Starting Line to Awards Stage (Presented with the participation of the Independent Production Fund)
A Tapestry of Voices Rises Up: Representation in the Writers' Room (Presented by Bell Media)
A New Era: Celebrating New Canadian Series & Their Directors (Presented by Directors Guild of Canada in Ontario)
The Art of Con/Destruction: Sustainability and Circularity On Set (Presented by William F. White International Inc.)
Technology on the Rise: Virtual Production (Presented by William F. White International Inc.)
Don't miss the Filmmaker Q&As for the 2021 Canadian Screen Award Best Picture nominees! Q&As are free for all to attend.
Q&A with Beans with Director Tracey Deer - Monday, May 10, 7:00 PM ET
Q&A with Funny Boy with Director Deepa Mehta - Tuesday, May 11, 7:00 PM ET
Q&A with Nadia, Butterfly with Director Pascal Plante - Wednesday, May 12, 7:00 PM ET
Q&A with The Nest with Director Sean Durkin - Thursday, May 13, 7:00 PM ET
Q&A with Underground | Souterrain with Director Sophie Dupuis - Friday, May 14, 7:00 PM ET