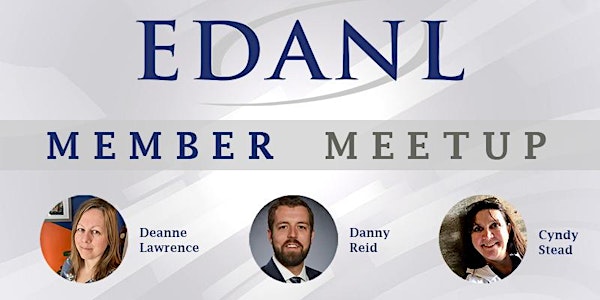 Members Meet-Up May 26: Papers in Economic Development
Join us on May 26th at 11am for our second EDANL Members Meet-Up with featured guests Deanne Lawrence, Danny Reid, and Cyndy Stead!
About this event
Our three panelists will discuss findings from their respective Year EDAC certificate research papers:
"Shifting the Pendulum of Being a Bedroom Community: Classifying Torbay as a Place to Live, Work, and Play" – Deanne Lawrence
"Engaging the Under 40 Crowd in Economic and Community Development in Newfoundland and Labrador" – Danny Reid
"Sustainable Development for Economic Growth" – Cyndy Stead
In a moderated discussion, our three panelists will discuss the findings from their respective EDAC research papers (see below), explore areas of convergence and divergence between them, and indicate what may have changed since first writing them.
The Members Meet-Up provides EDANL members the opportunity to learn more about economic development activities taking place in Newfoundland and Labrador, and to have an open discussion afterwards to share ideas, experiences, and insights.
Date: May 26, 2022
Time: 11am-12pm NST
Cost: Free for Members