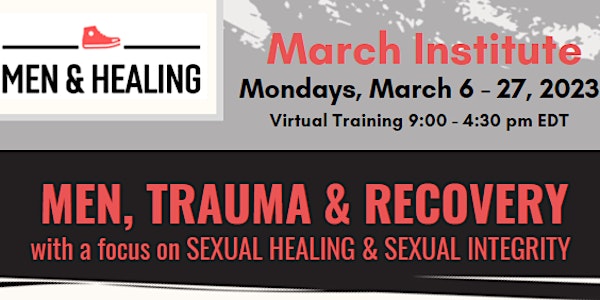 Men, Trauma & Recovery, with a focus on Sexual Healing and Sexual Integrity
Men, Trauma & Recovery with a focus on Sexual Healing and Sexual Integrity for Service Providers
Refund Policy
Refunds up to 7 days before event
Eventbrite's fee is nonrefundable.
About this event
21 days 6 hours

Mobile eTicket
Join us for one or more of these online learning days! We focus on relevant learning of concepts and skills to strengthen therapeutic interventions and practices.
Our maximum group size for each day is 20, so register early and come prepared to share your questions, comments and challenges!
Please contact us for group and student discounts: info@menandhealing.ca
Day 1: Monday, March 6, 2023 - 9:00 am - 4:30 pm EDT
Truth Telling: The case statement for addressing men's trauma
Presented by Rick Goodwin, MSW, RSW
Prerequisites: None.
Learning Style: Structured, combining lecture with small group work, role plays, and video debriefings.
Audience: Best suited for mental-health professionals, case managers, peer-support workers, justice-system workers – anyone who has frontline engagement with male clients.
Truth Telling is our introductory training on men's developmental trauma, with a particular lens on childhood sexual trauma. It offers a primer on the theories and conceptual approaches to working with male survivors, with a specific focus on men's experiences of sexual abuse and assault.
The day starts with an introduction to a male-centred approach to psychotherapy – an orientation that speaks directly to men's subjective experiences. The training then explores male psychology as well as understanding of how this "coding" intersects with the lives of men facing trauma. An overview of current research on both male sexual abuse and assault follows. After an analysis of how trauma commences, we examine the post-traumatic response of how it bleeds into men's lives. The day finishes with case-study examinations of male survivors, a conceptual lens to the recovery process, with video testimonies serving as expressions of healing.
Truth Telling is a prerequisite for participants who wish to engage in further training concerning intervention strategies with this population.
****************************************
Day 2: Monday, March 13, 2023 - 9:00 am - 4:30 pm EDT
Re-Visioning Men's Anger, Rage & Violence: Trauma-informed engagement with men
Presented by Rick Goodwin, MSW, RSW
Prerequisites: Truth Telling [Day 1].
Learning Style: Structured, with lecture along with small group work, video debriefings experiential exercises.
Audience: Best suited for mental-health professionals, trauma specialists, correctional staff and justice system workers.
Re-Visioning Men's Anger, Rage & Violence is based on trauma-informed research examining the links between male childhood abuse and intimate partner violence (IPV). While many practitioners are aware that most men who are prone to rage and partner violence have a significant history of childhood abuse, few intervention programs are derived from this research and application.
This training focuses on the clinical implications of adopting a trauma-oriented understanding of IPV using the psychodynamic framework of Ego State Theory. This fearless training challenges whether the current dominant "power and control" model of IPV offers a comprehensive picture of the inner world of men who are assaultive, let alone offering a way of change. Using a trauma lens, and a core focus on shame-based expression, this training arguably offers more nuanced, respectful and promising approach to clinical interventions with this population.
****************************************
Day 3: Monday, March 20, 2023 - 9:00 am - 4:30 pm EDT
Sexual Healing: Addressing the Intersection between Men's Sexual Trauma, their Sexual Identity & Problematic Sexual Behaviours
Presented by Annika Vander Kooy, MSW, RSW
Prerequisites: Truth Telling [Day 1] & Revisioning Men's ARV [Day 2].
Learning Style: Structured, with lecture along with small group work, video debriefings, experiential exercises.
Audience: Best suited for mental-health professionals, trauma specialists, and sex therapists.
Sexual Healing will look at what its assumed yet often avoided in clinical work with male survivors - the interconnecting issues between sexual abuse, its impact on the development of the sexual self, and problematic expressions of their sexual behaviour. To this end, we will begin by framing how the sexual self develops and the intersecting aspects of identities alongside core sexual health principles. We will review Herman's dialectic of trauma and examine the pattern of constriction and intrusion that plays out in survivors' sexual behaviours. We will then explore trauma's impact on the creation of one's core erotic themes, looking at issues of identity confusion, blocks to pleasure, sexual risk taking, energies of consent, and a constellation of "sex stuff" issues that may arise in both individual and group therapy.
Sexual Healing is a courageous examination as well as clinical approach to necessary conversations with survivors - will occur in a context of both compassion and respect on how we can accompany male survivors in their journey of healing within their sexual realms.
****************************************
Day 4: Monday, March 27, 2023 - 9:00 am - 4:30 pm EDT
Sexual Integrity:Addressing Compulsive and Problematic Sexual Expression with Men
Presented by Ray Robertson, MSW, RSW
Prerequisites: Truth Telling [Day 1], Re-visioning Men's ARV [Day 2], and Sexual Healing [Day 3].
Learning Style: Structured, with lecture along with small group work, video debriefings, experiential exercises.
Audience: Best suited for mental-health professionals, trauma specialists, and sex therapists.
Our last day together will focus on how to address issues concerning out-of-control sexual behaviours through a framework of sexual integrity. Whether the presenting issues are compulsive masturbation, chronic pornography consumption, sexual risk-taking, or habitual infidelity in committed relationships, Sexual Integrity is an approach as well as a model to clinical engagement with men is timely, compassionate and respectful.
This approach is also the basis of a dedicated group therapy model, originally pioneered by Ray Robertson, and now delivered by Annika as a M&H core service. Sexual Integrity contests the notion of seeing such behaviours as "sex addiction." Instead, men need to be challenged to act within their sexual truth so that they can be connected to their own values, feelings, and commitments - allowing them to be true to themselves and honest with others as they navigate their sexual decisions. As a learning group, we will review the male code and the constriction of men's sexuality; the social messages of sex, shame and silence; themes present with sexually out of control behaviours; the sexual shame cycle and sex as emotional regulation; and finally, themes present when healing in relationship. Both individual and group approaches will be explored.
****************************************
Pre-Requisites
Past participants in Men & Healing' training work can have course pre-requisites waived by providing documentation of their past course completion when they enroll for the March Institute.
Please note that M&H often does not hold lists of past students, as past events may have been organized by host organizations.
****************************************
Biographies of Trainers:
Rick Goodwin, MSW, RSW
Rick is the founder and Clinical Services Director of Men & Healing, as well as the past co-founder/Executive Director of The Men's Project (1997-2015). He also served as National Manager to 1in6 Canada (2012-2015). 
Rick conducts trainings across Canada and internationally on male sexual trauma, trauma recovery and men's mental health. He also provides trainings across the U.S. through 1in6 Inc. He further facilitates group trauma treatment programs for men on behalf of M&H.
Based on his experience working with men on issues of domestic violence, Rick has provided training on gender and violence for many years to various local, provincial, and national organizations. Training in gender and violence has taken Rick to Jamaica, the U.K., the U.S., Cambodia, Japan, New Zealand as well as India, where he conducted gender-sensitivity training to male directors of social service agencies. Rick has spoken at national and international conferences on men, violence against women, and trauma recovery.  Additionally, he has worked as a social sciences and social work instructor at the college and university level.
Rick's research and writing has been published in both national magazines and federal publications. He co-authored the guidebook Men & Healing: Theory, Research and Practice with Male Survivors of Childhood Sexual Abuse (2009), which was commissioned by the Ontario government. This guidebook is now being used to formulate services in both Canada as well as internationally. He also co-authored the Australian guidebook entitled Foundations (2017). He is currently serving as Subject Matter Expert to the Canadian Armed Forces on issues relating to sexual misconduct.
In 2021, he was awarded the Meritorious Service medal by the Governor General of Canada.
Annika Vander Kooy, MSW, RSW
Annika is the Clinical Lead on Issues of Sexual Identity & Sexual Expression here at Men & Healing. She is also an Associate Member of BESTCO (Board of Examiners in Sex Therapy and Counselling Ontario). Annika provides individual, relational and sex therapy with Men & Healing. She also facilitates one of our trauma recovery group programs and our Sexual Integrity group program at Men & Healing. As a trauma therapist, she is passionate about helping individuals process and reclaim meaning in their past and present experiences, tap into their resiliencies and strengthen connections to expand their world.
Annika believes relationships are sites of powerful healing and feels honored to work alongside individuals, couples and poly constellations as their connections to themselves and each other transform. Annika is a sex-positive, LGBTQ+, CNM, and kink/BDSM knowledgeable therapist that believes that her clients can strengthening their relationships and hold authentic sexual expression.
Ray Robertson, MSW, RSW
Ray is a certified sex therapist in private practice. As a clinical member of the Board of Examiners in Sex Therapy and Counselling in Ontario, he brings an eclectic approach to his practice, drawing particularly on object relations and self-psychology. He provides counselling on sexual issues, relationship issues, sleep and fatigue, sexual abuse, depression, anxiety, and the challenges of parenting. He is the developer of the Sexual Integrity program, a group therapy model currently offered at men & healing to treat dysregulated sexual behaviour.
In addition to his counselling practice, Ray is also a board approved clinical supervisor, an external clinical supervisor for the Master's degree counselling program at St. Paul University, Ottawa, an educator, workshop presenter, volunteer, husband, father, and grandfather.
FAQs
How do I choose which sessions I will attend?
Upon receiving notification of your order, Men & Healing will contact you  within 3 business days by email to request your workshop choices. We will do our best to ensure you receive your first choice of workshops, however, due to the popularily of some workshops, we cannot gaurantee that all workshops will be available when you register. Please register early for best selection. 
Are there discounts for groups or students?
Yes! Please contact us at info@menandhealing.ca before registering for the event and we will be happy to provide a discount.
How do I prove that I have completed a pre-requisite in the past?
You can send a copy of the certificate of completion, a receipt of purchase or another relevent document to info@menandhealing.ca
Which virtual platform will the March Institute be presented on?
Zoom for Healthcare. A link for each day will be provided to you closer to the event date.
 How can I contact the organizer with any questions?
Please feel free to contact Men & Healing at info@menandhealing.ca or call (613) 482-9363.
 What's the refund policy?
We respectfully request at least 7 days notice of any refund required. Refunds will be processed for the entire ticket minus the Eventbrite processing fee. If you cannot attend the event with less than 7 days notice, please contact us with the name of someone you would like to transfer your ticket to.