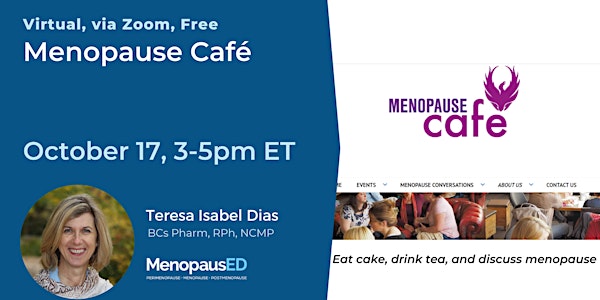 Menopause Cafe- Eat cake, drink tea, and discuss menopause
Let's talk about menopause. Share your experience with others. Listen to other's experiences. You're not alone.Validate your midlife journey
About this event
Rachel Weiss started the Menopause Café in Perth, Scotland and I held the first Menopause Café outside the UK in Toronto in May 2019.
A Menopause Cafe is a discussion with no pre-set agenda, where the topics are chosen by you, the participant on the day.
We want the whole world talking about the menopause.
At a Menopause Café people gather to eat cake and drink tea (or whatever you want/have at home!) and discuss menopause.
Menopause Café is offered:
• In an accessible, respectful, and confidential space
• Open for all, regardless of gender or age
• With no intention of leading people to any conclusion, product or course of action
• On a not for profit basis
Looking forward to meeting you at the Menopause Café!