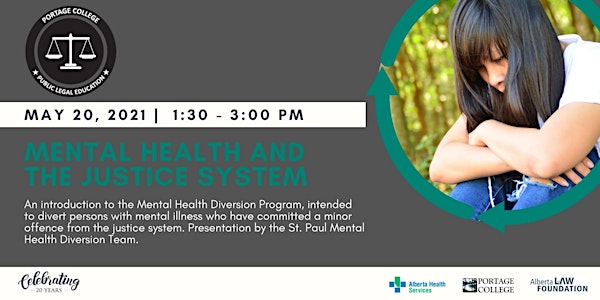 Mental Health and the Justice System
Information on an alternative for adults with mental illness who have been charged with a minor, low-risk crime.
About this event
Mental Health Diversion Program Information Session
Join us to learn about the St. Paul Mental Health Diversion Program, a service intended to divert persons with mental illness who have committed a minor offence from the justice system.
This program provides diversion from the justice system to the mental health system for adults 18 and older and youth (12 years to 18 years) who have a mental illness and are charged with a less serious criminal offence.
The service assesses people and offers assistance to identify goals and needs, links to agencies or services, and recommends charges are withdrawn if goals are met.
It offers the judicial system an alternative in dealing with adults with mental illness who have been charged with a minor, low-risk crime. They now may be eligible to participate in mental health and community care, subject to referral and approval by the Crown prosecutor.
Once a person enters the service, a mental health clinician conducts a completed assessment, which includes gathering a detailed history.
The person is then linked to resources specific to their needs and receives support to make positive changes.
Details on how to join this session on Zoom will be emailed 1 day prior. If you do not receive the invitation, please contact the host at shelley.jackson@portagecollege.ca
Please visit PLEonline.ca or our Eventbrite event listings page for information on other upcoming free public legal education events.