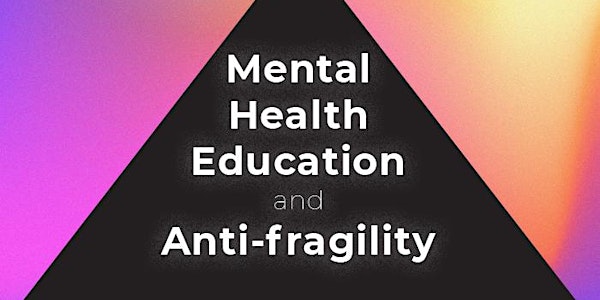 Mental Health Education and Anti-Fragility
Understand how to be more resilient under pressure.
About this event
Antifragility means becoming stronger in the face of stress and challenge. ‌‌‌By preparing us for these obstacles, education on mental health makes us more resilient under pressure. In this week's presentation, the connection between anti fragility and mental health education is discussed.
Join Negar Yaghoobi, Founder and CEO at Colorful Zone in the second session of her five part series.
Negar is the founder of an experimental research about sustainable happiness since 2012, working with psychologists, behavior scientists and medical data scientists.
They have won two awards for this research, and partner with the following universities that include their project in their case study:
Bay Path University (Massachusetts, United States)
University of Stirling (Scotland, United Kingdom)
Laurus College (California, United States)
Northern Michigan University (Michigan, United States)
MacEwan University (Alberta, Canada)
This session will take place ONLINE. Please register at: https://techconnex.ca/events-calendar/#!event/2022/10/5/investing-in-mental-health