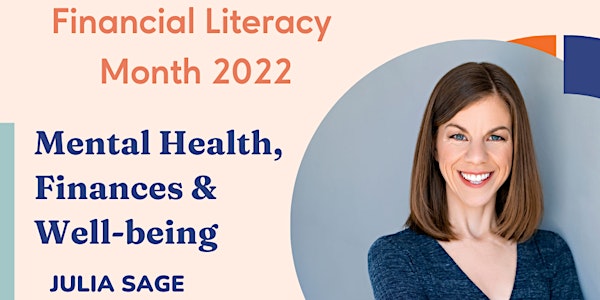 Mental Health, Finances and Well Being
Mental Health, Finances and Well Being - A Candid Conversation
About this event
In this workshop, we will explore the links between financial health and mental well-being.
We tend to see money and mental health as totally separate issues but spoiler alert: they are not! Julia will talk about her own journey with financial challenges and how taking steps to deal with these meant leaning in towards her fear (hello, shame & vulnerability) but also helped to shift her beliefs and relationship with money, ultimately allowing her to have a life that feels more in line with her core values.
We will talk about some steps you can take to transform your relationship with money. Finally, we will talk about resources in the community that can support one to begin working through financial and/or mental health challenges on the path to greater overall well-being.
Julia Sage is a registered social worker, psychotherapist who currently works in private practice where she supports adults to reclaim their lives from anxiety.
Prior to opening her practice, Julia worked in various roles supporting folks with their mental health including the Ontario Structured Psychotherapy program which aims to offer helpful and accessible mental health care.
She has her Masters's degree in Social Work, is a trained mindfulness facilitator teacher, and is a certified yoga instructor.
Julia is the proud mama of one, an aspiring writer, and a lover of nature. Her relationship with money has shifted over the past 5 years significantly which she credits in part to her work with Pamela George as well as to her own personal growth journey through separation & divorce.