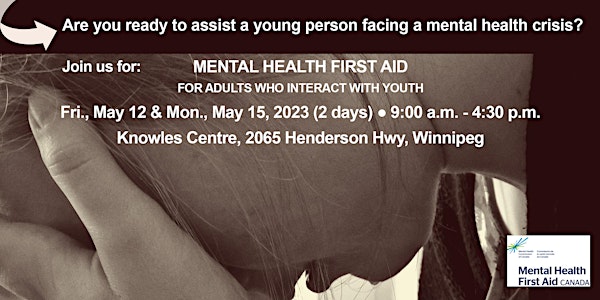 MENTAL HEALTH FIRST AID For Adults who Interact with Youth
BE PREPARED TO RESPOND WHEN A YOUNG PERSON IS FACING A MENTAL HEALTH CRISIS
When and where
Location
Knowles Centre 2065 Henderson Highway Winnipeg, MB R2G 1P7 Canada
About this event
Mental Health First Aid Training - Fri., May 12 & Mon., May 15, 2023 - 9:00 am to 4:30 pm (2 days)
One in three Canadians will experience a mental health problem at some point in their life. Problems often first develop during adolescence or early adulthood, with half of all mental disorders beginning by age 14, and 75 percent beginning by age 24.
Mental Health First Aid (MHFA) is the help provided to a person developing a mental health problem or experiencing a mental health crisis. Just as physical first aid is administered to an injured person before medical treatment can be obtained, MHFA is given until appropriate treatment is found or until the crisis is resolved. The program does not teach people how to be therapists.
Mental Health First Aid for Adults who Interact with Youth(aged 12-24) is a 14-hour course that discusses the following mental health problems:
• Substance-related disorders
• Anxiety and trauma-related disorders
• Psychotic disorders
• Eating disorders
• Deliberate self-injury
• Mood-related disorders
Crisis first aid skills for the following situations are learned:
• Substance overdose
• Suicidal behaviour
• Panic attacks
• Acute stress reaction
Event registration includes
• 2 days training
• MHFA program manual
• Certificate (mailed by MHFA Canada)
• Morning refreshments
• Lunch
Refunds will not be made after registration is processed. Substitutions may be made; advance notice is requested.