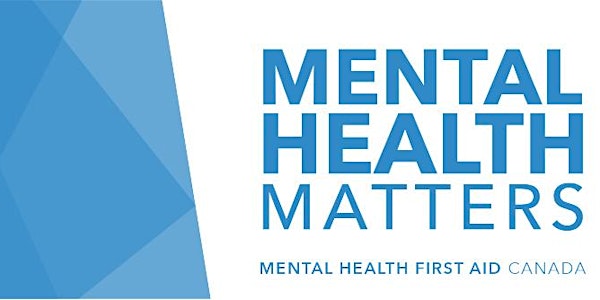 Mental Health First Aid Standard (Virtual)
Mental Health First Aid Standard (Virtual)
Refund Policy
Contact the organizer to request a refund.
Eventbrite's fee is nonrefundable.
About this event
The Mental Health Commission of Canada reports that one in every five Canadians experiences a mental health problem within a given year. While we often know a lot about physical illness, there tends to be less knowledge about mental health or substance use problems. This lack of understanding leads to fear and negative attitudes towards individuals living with these problems. It prevents people from seeking help for themselves and from providing appro- priate support to people around them.
Course Objectives
Mental Health First Aid (MHFA) is the support provided to a person who may be experiencing a decline in their mental well-being or a mental health crisis.
Course participants will learn how to recognize signs that a person may be experiencing a decline in their mental well-being or a mental health crisis and encourage that person to:
• Talk about declines in their mental well-being
• Discuss professional and other supports that could help with recovery to improved mental well-being
• Reach out to these support
• Assist in a mental health or substance use crisis
• Use MHFA actions to maintain one's own mental well-being
Participants will receive a comprehensive reference guide, worksheets and activities, and a certificate upon completion of the course.
Topics
Module 1: Self-Directed
• Introduction to the course
• Introduction to MHFA actions
Module 2: Virtual Classroom
• Practice applying MHFA actions to situations of declining mental well-being
• Guidelines for MHFA conversations with people from diverse cultures and members of the 2SLGBTQ+ community
Module 3: Virtual Classroom
• Discussion on using MHFA actions for self-care
• Practice using MHFA actions in crisis situations
Method of Instruction
This 9-hour course opens with a self-directed module (Module 1) that focuses on the information and strategies that participants will discuss and practice throughout the virtual classroom modules (Modules 2 and 3). Course participants are required to complete Module 1 before participating in Module 2 and 3.
• To attend the virtual course, you must have access to high speed internet and computer with a working camera, microphone and speakers or earphones during each session.
Policies and Procedures
Age
As per the Mental Health Commission's policy, MHFA Standard particpants must be 18 years old and older.
Attendance
Participants must attend both Modules to receive a certificate of completion from the Mental Health Commission of Canada. A participant's registration entitles them to attend only the course dates they selected.
Behaviour
If a participant is disruptive, disrespectful, rude, and otherwise negatively contributes to the unfolding of the course (i.e. inappropriate language) in any way, the Instructor has the right to ask the participant to leave the course and the participant will not receive a MHFA certificate of completion or a refund.
Cancellation
The Instructor reserves the right to cancel or postpone courses due to under-enrollment, Instructor illness or any unforeseeable reason. If a course is canceled, you may transfer to another course or receive a full refund.
Punctuality
Punctuality is very important so that the Instructor can begin courses on time. If one arrives later than 10 minutes past the start time of the scheduled course, they will be refused admittance. This also includes returning from breaks and leaving the course early.
If one does not receive a certificate of attendance due to late arrival/absence, the full cost of the course applies.
Registration
Registration closes 1 week prior to the start date/time of the course. Registration requests received after the above-stated deadline will be considered at the discretion of the Instructor.