Event Information
Refund policy
Contact the organizer to request a refund.
Eventbrite's fee is nonrefundable.
The HBS Club of Toronto, in concert with partners including the Harvard Alumni for Mental Health SIG, invites you to join us for a panel.
About this event
HBS Club of Toronto, in concert with partners including the Harvard Alumni for Mental Health Shared Interest Group (SIG), is excited to host a candid discussion on "Mental Health in 2022: Addressing opportunities and challenges across systems and stakeholders."
The discussion will bring together experts from the academic, non-profit, and entrepreneurship spheres to discuss how to overcome misconceptions, structural challenges, and unify the patient experience when it comes to the experience of seeking mental health treatment.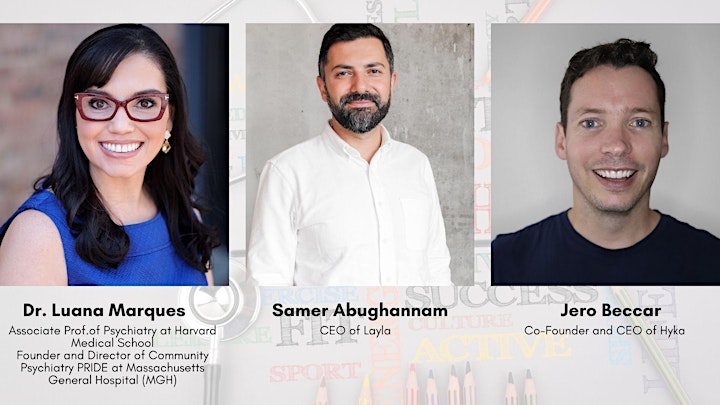 Dr. Luana Marques
Dr. Luana Marques is an Associate Professor of Psychiatry at Harvard Medical School, Founder and Director of Community Psychiatry PRIDE at Massachusetts General Hospital (MGH), and former President of the Anxiety and Depression Association of America. She is the author of the critically acclaimed book, Almost Anxious: Is My (or My Loved One's) Worry or Distress a Problem?, which has been lauded for its clear and practical approach to effectively dealing with anxiety. Frequently cited as one of the leading experts in Cognitive Behavioral Therapies (CBTs), Dr. Luana has been featured in publications such as The New York Times, CNN, Harvard Business Review, and more. She also has been a frequent guest on television broadcasts such as Good Morning America, Face the Nation, and CNBC and podcasts including Ten Percent Happier and How to Be Awesome at Your Job. Connect with her @DrLuanaMarques
Samer Abughannam
Samers vision at Layla is to create a human-first, tech-powered mental health service, built on quality, patient-centricity, and innovation. Before Layla, he was Vice President focused on healthcare investing and operations at Persistence Capital Partners and Senior Manager at MaRS Centre for Impact Investing. He started his career as an engineer and investment banker. He has led projects in community-based hypertension prevention, diabetes prevention and management, corporate wellness, and home health. Samer has acted as an Adviser to the CEO/CFO of the Heart & Stroke Foundation, and currently is a member of the Finance Committee of the Board of UNITY Charity. He completed a Bachelor of Engineering from McGill and a Masters of Business Administration from Harvard. As a teenager, he played the bagpipes, and a little basketball. Today, he enjoys watching the latter.
Jero Beccar
Jero Beccar is the co-founder and CEO of Hyka, a care navigation platform that helps telemedicine patients connect with clinics that offer the latest mental health treatments — from brain stimulation to psychedelics. Jero has an unconventional path to healthcare. He began his career in the entertainment industry in Los Angeles, working for film productions at Disney and Warner Brothers. From there, he started a company developing technology for government lighting applications. After almost ten years leading product and operations and a small exit, he seized an opportunity to move back to Boston. Inspired by a friend of his who died by suicide after not responding to multiple antidepressants, he joined Harvard to explore problems in the mental health care system. Jero is deeply involved with the entrepreneurial community as an OnDeck Health Fellow, a teaching fellow and judge at the Harvard Business School Startup Bootcamp, and as an advisor to Latinx founders. He is a dog and outdoors lover, proud dad of baby Tommy, and husband of Guillermo.
Date and time
Location
Refund policy
Contact the organizer to request a refund.
Eventbrite's fee is nonrefundable.