Mental Health & Toronto's Asian Community

Wednesday, 23 August 2017 from 1:30 PM to 2:45 PM (EDT)
Event Details
Mental Health & Toronto's Asian Community
Multiculturalism is an integral component in Canadian society. However, cultural diversity brings with it challenges in meeting the health care needs of different ethno-cultural groups. Chinese patients tend to deal with psychiatric illness initially through family supports and alternative naturopathic modalities. Patients of Chinese origin are one of the three highest populated ethnic patient groups treated at University Health Network (Toronto General Hospital, Toronto Western Hospital and Princess Margaret Hospital), including in the area of mental health.
Hear a panel of experts and people who have lived with these experiences as they discuss different perspectives on areas of mental health awareness within Toronto's Asian community.
Moderator:
William Ju, 
Associate Professor, Human Biology, Teaching Stream, UofT
Panelists include:
Kenneth Fung, MD FRCPC MSc:Clinical Director, Asian Initiative in Mental Health at Toronto Western Hospital & Associate Professor, Equity, Gender, and Populations Division, Department of Psychiatry, University of Toronto
Sonia Yoon: board member of Hong Fook Mental Health Foundation, committee member of Hong Fook Mental Health Association. She has a teaching background, and would like to share the experience of her previous students and their parents from an educator's perspective.
Emillie Nguyen: Mental Health Worker with Hong Fook Mental Health Association, Prevention and Promotion Program. She's the second-generation immigrant from a Vietnamese refugee family and also works closely with immigrant youth including second/third generation youth, newcomer youth, and international students in East Asian, especially Vietnamese, community. She also sits on the planning committee of the MindFest.
Larissa Ho: Author of the self-published Becoming Silver Girl, a series of short stories about her struggle with mental illness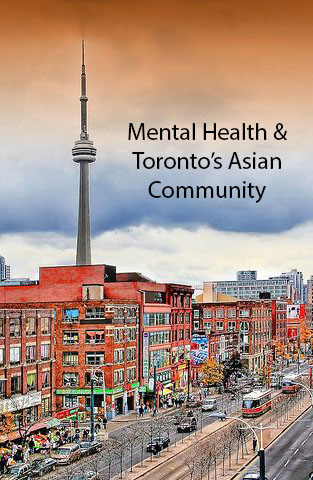 Facts & Stats:
1.       Research shows that Asian men, particularly fathers, are ashamed to admit to emotional crises and often     see mental illness as a religious challenge.
2.       According to a report on east Asian youth (ages 16-24) regarding mental health needs assessment, those from Cantonese, Mandarin, Korean, and Vietnamese backgrounds have adversely impacted their mental health due to substance use, negative immigration experiences, and increased shame.
3.       According to data from the Canadian Community Health Survey, Chinese Canadians are less likely to access mental health services than Caucasian Canadians.
4.       While immigration has often been linked to stress and mental health challenges, studies show that Asian Canadian immigrants may be more reluctant to seek help due to shame and stigma related to cultural differences vis-à-vis the recognition and understanding of mental illness and mental health care.
5.       A cross-sectional study of psychiatric inpatients aged from 19 to 105 years showed that Chinese patients had greater odds of involuntary admissions of mental illness at hospitals in Ontario in 2016 compared to the general population.
6.      Mentally ill Chinese and South Asian patients in Ontario experience much more severe symptoms by the time they get to hospital than patients from other groups.  They were also more likely to be admitted and detained against their wishes.   Researchers hypothesize that cultural factors are the main reason.   
When & Where

Toronto Public Library - Lillian H. Smith Library
239 College Street
Lillian H. Smith Library auditorium
Toronto, ON M5T 1R5
Canada

Wednesday, 23 August 2017 from 1:30 PM to 2:45 PM (EDT)
Add to my calendar
Organizer
Healthy Minds Canada is a national charity in the mental health and addictions space with a mission to empower Canadians to take charge of their mental health by helping them identify issues early and navigating them to resources to achieve healthy outcomes faster.