Description
AN ALL-FLOORS, CLOSE-THE-STREET EXTRAVAGANZA WITH LIVE MUSIC, ART SHOWCASE, POP-UP MARKET, LOCAL FOOD, DANCE PARTY AND MORE.
Hosted by Mercer Warehouse, Make Something Edmonton, Startup Edmonton, Edmonton's NextGen and The Culture Collective, with special thanks to TD.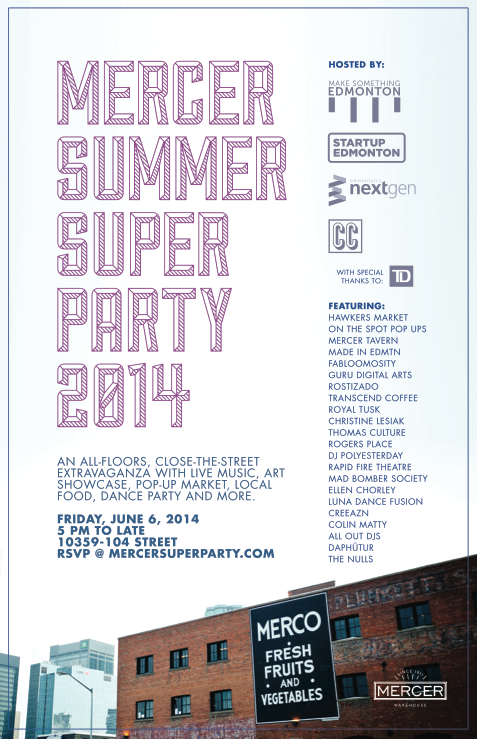 Schedule:
The Mercer Summer Super Party begins at 5 pm: Explore every floor of the Mercer Warehouse (10359-104 Street) - from Startup Edmonton on the third floor, GURU Digital Arts show on the second, Fabloomosity flower shop on the first, On the Spot Pop Up Trunk Market on the lower level, and craft beer at the Mercer Tavern. On the street you'll find the food trucks and vendors of HWKRS MRKT, and social spaces by Edmonton Next Gen and Rogers Place + Arena District. At 8 pm: Everyone gathers on the street for more performances, food truck alley, photo booth and other activities. Then it's a lights on, dance party takeover until 10:30 pm.
Only a party like this could happen at the Mercer Warehouse.
Featuring:
Hawkers Market
On the Spot Pop Up Sale
Mercer Tavern
Made in EDMTN
FaBLOOMosity
Guru Digital Arts College
Rostizado by Tres Carnales Taquería
Transcend Coffee
ROGERS PLACE
Royal Tusk
Polyesterday
Ellen Chorley
Christine Lesiak
Thomas Culture
Rapid Fire Theatre
Mad Bomber Society (Official)
Luna Dance Fusion
CreeAzn
Colin Matty
All Out DJs
Daphütur
The Nulls
Hempcrete Natural Building
Open Piano YEG
Our Book
Green Window City
...and more!
Tickets/Registration:
Tickets and all ages access to the Mercer Summer Super Party is free. Be sure to bring cash for food, drinks and goodies. We're also accepting donations for Edmonton's Food Bank, so please bring something non-perishable.