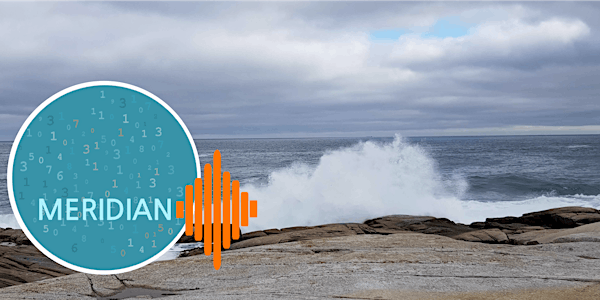 MERIDIAN Winter Webinar Series: Underwater Soundscapes
MERIDIAN Winter Webinar Series: Underwater Soundscapes
About this event
Welcome to the 'Underwater Soundscapes' event in the MERIDIAN Winter Webinar Series!
This event will focus on underwater soundscapes. MERIDIAN staff Pierre Mercure-Boissonnault and Édouard Philippe will introduce the Ocean Soundscape Atlas, an online tool to visualize and analyze large datasets of underwater acoustic maps. In their presentation, Pierre and Édouard will explain how the acoustic maps are generated and used, for instance, to visualize the effects of shipping noise on endangered marine species. Meanwhile, MERIDIAN web developer Patrice Lebel will give us an overview of the application itself, how it has been implemented, what it is capable of and how it can help the scientific community and decision makers. Feel free to try out the Ocean Soundscape Atlas app for yourself before the webinar at http://soundscape-atlas.uqar.ca. Also as part of this event, we will have MERIDIAN data manager Matthew Smith tell us about the Automatic Identification System (AIS), which is used to track the movements of ships and is used by the Ocean Soundscape Atlas to create shipping noise maps. Finally, senior staff scientist Oliver Kirsebom will give an overview of Kadlu, an open-source Python package developed by MERIDIAN to facilitate modelling of underwater ambient noise.
Full agenda can be found here.
Please RSVP as space is limited to 50 participants. If there is anyone you would like to suggest attending, send their full name and email to piscesrpm@piscesrpm.com.
Schedule:
Webinar 2: What do we know about fish sounds?, November 25th
Webinar 3: Visualizations for preference inspection in group decision making, December 2nd
Webinar 4: Acoustic detection and classification in the modern era of big data, deep learning, and open science principles,December 15th
Webinar 5: Machine learning for in-situ automated analysis of underwater acoustic data, January 13th 2021
Webinar 6: Management of underwater acoustics data, January 20th 2021
Webinar 7: A new toolkit for acoustic tracking, January 27th 2021