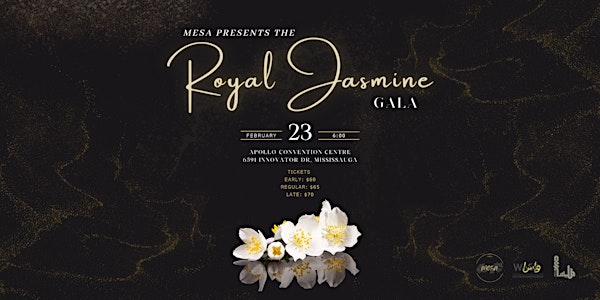 MESA GALA 2023: THE ROYAL JASMINE
The time has come. Formal. Dinner. Music. Live Performances. Get your tickets now.
By UTM Middle Eastern Students' Association
Date and time
Thu, Feb 23, 2023 6:00 PM - 11:30 PM EST
Location
Apollo Convention Centre 6591 Innovator Drive Mississauga, ON L5T 2V8 Canada
About this event
It's time to bring back MESA's Annual Gala!!!!✨
Our theme was inspired by the the exotic and alluring Arabian Royal Jasmine Flower, the National flower of many Middle Eastern countries, including Saudi Arabia, Syria, Palestine, Yemen, Oman. The jasmine flower, with its floral aroma, is a tropical delight that is treasured in any garden.🌸
Join us as we celebrate the start of a new year with great people, amazing vibes, and phenomenal performances brought you by UTMESA, UofG MESA & WASA!!!
Where: Apollo Convention Centre!
When: February 23, 2023 @ 6pm!
When purchasing your ticket please ensure you are picking your seat so you can be with your friends as we will not be able to change your seat later on. Please also note that the table placements may be subject to change! 😊
❗️This event is EXCLUSIVE to ALL University/College students!
Ensure to have your GOVERNMENT ID upon arrival. Please note that alcohol and any other forms of intoxicants are STRICTLY PROHIBITED. All attendees will be checked upon arrival.
*IF YOU DO NOT COMPLY WITH THE ABOVE RULES YOU WILL BE DENIED ENTRY AT THE GATE AND NO REFUND WILL BE ISSUED*
Your safety is our #1 priority. Security will be present at all times at the entrance and during the event.❗️
We wish to see ALL of you there!!
A SPECIAL THANK YOU TO OUR SPONSORS!

PLATINUM SPONSOR: GFA REALTY Ltd.
GFA Realty Ltd is a boutique real estate company that specializes in a wide range of properties, including both commercial and residential. The firm offers personalized services to clients seeking all types of properties, from high-end homes and apartments to office buildings and retail spaces.
With a focus on luxury and exclusivity, our experienced agents are knowledgeable in both the residential and commercial real estate markets, providing expert assistance in property search, acquisition, market analysis, and negotiation. The promise is to deliver a one-of-a-kind real estate experience to its clients, no matter what type of property they are seeking.