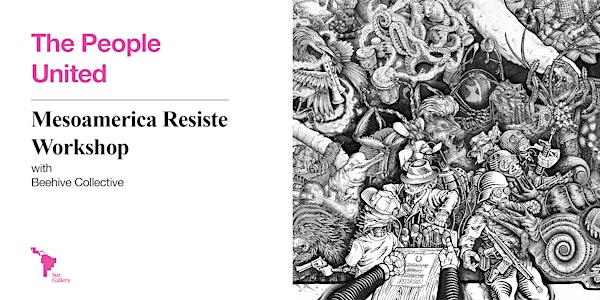 Mesoamerica Resiste Workshop with Beehive Collective
Workshop with Beehive Collective at Sur Gallery.
When and where
Location
Sur Gallery 39 Queens Quay East ##100 Toronto, ON M5E 0A5 Canada
About this event
Programming:
Saturday, October 15th, 2022, 1PM ET at Sur Gallery.
Join us on October 15, 2022, for a special workshop with Beehive Collective!
Come join us for an interactive workshop on the Mesoamerica Resiste poster. Part of a three-part trilogy depicting the struggle against corporate globalization, Mesoamerica Resiste focuses on the resistance around the mega-infrastructure projects that facilitate extraction and the neoliberal model of "development". We will deconstruct the poster section by section, as a group, encouraging folks to jump in whenever they feel a connection with part of the poster.
ABOUT THE FACILITATOR
THE BEEHIVE COLLECTIVE is an all-volunteer, activist art collective, motivated and dedicated to "cross-pollinating the grassroots" by creating collaborative, anti-copyright images as educational and organizational tools. They work anonymously as word-to-image translators of complex global stories, gathered through conversations with affected communities. Since 2000, they have disseminated more than 150,000 posters throughout the Americas, entirely by grassroots, hand-to-hand distribution. Their graphics have tackled issues from globalization, trade, and resource extraction, to energy, biotechnology, and climate change. They strive to create holistic and accessible images that inspire critical reflection and strategic action.
ABOUT SUR GALLERY
Sur Gallery is Toronto's first gallery space dedicated to the exhibition and critical engagement of contemporary Latin American Art and is a project of LACAP.
For information contact:
416-654-7787
info@surgallery.ca
www.surgallery.ca
www.surgalleryvirtual.ca
www.facebook.com/LACAPsurgallery
https://www.youtube.com/user/lacapcanada/videos
Gallery Hours:
Thursdays and Fridays 12 pm-6 pm
Saturdays 11AM-5PM
Location: 100-39 Queens Quay East, Toronto
Sur Gallery acknowledges the financial support of the Canada Council for the Arts; Ontario Arts Council; Toronto Arts Council; Canadian Heritage through Community Support, Multiculturalism, and Anti-Racism Initiatives Events component; The City of Toronto through section 37; and its sponsor Ready2Post.