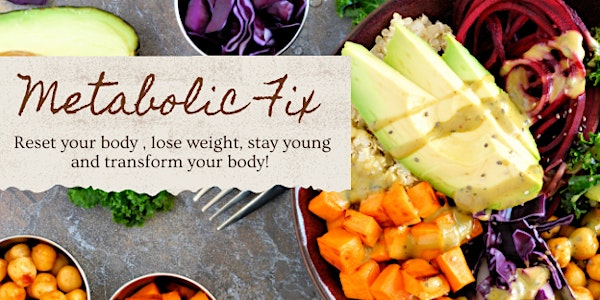 Metabolic Fix
A great way to start the New Year! Reset your body, lose weight, stay young,and transform your life!
Refund Policy
Contact the organizer to request a refund.
Eventbrite's fee is nonrefundable.
About this event
Join Dr. Nick and Dr.Sonya and learn all about fasting, ketosis and diet variation to maximize stem cells for health and longevity! Join us in this 7 week webinar series with weekly 45-60 minute session on Mondays at 6pm (PST). We will be preparing you for a block fast to help reboot your body towards better health.
Stem cells are the most important element in regeneration of the body. We need effective stem cell release to keep us vital and help us recover from degenerative diseases. Boosting stem cells plays a huge role in: deep cellular detox, hormone optimization, brain health, pain relief, energy, longevity, fat loss and MORE!!
The purpose of this program is to guide and support you by utilizing therapeutic strategies and supplements (optional). You will be given a workbook with everything you need to successfully complete the 7 weeks, including tips,tricks and recipes. This will be on the online event page which you can find access on any of the Eventbrite confirmation emails once you sign-up for the program.
These are the topics that will be addressed each week:
Week 1 (Monday February 22nd) - Learn how to implement the ketogenic diet and reap all the rewards (more stable mood, less irritability, start feeling calm again, lose-weight).
Week 2 (Monday March 1st) - During this week you'll become more fat adapted and teach the body to eat less often (less brain fog, more clear focus, get things done).
Week 3 (Monday March 8th) - Discover your personalized eating window (Intermittent Fasting) to trigger autophagy and start building new stem cells.
Week 4 (Monday March 15th) - More fat burning power and tapping into those deep subcutaneous fat stores; learn the 5-1-1 feast/ famine cycle.
Week 5 (Tuesday March 22th) - Become a professional fat burner with the 4-2-1 cycle.
Week 6 (Monday March 29th) - Five Day Block Fast (deep and total body healing, rest and rejuvenation, breathe better, sleep better).
Week 7 (Monday April 5th) - Learn how to re-inoculate the gut, discover foods that continue healing, what to eat and when + menu plans recipes!