About this Event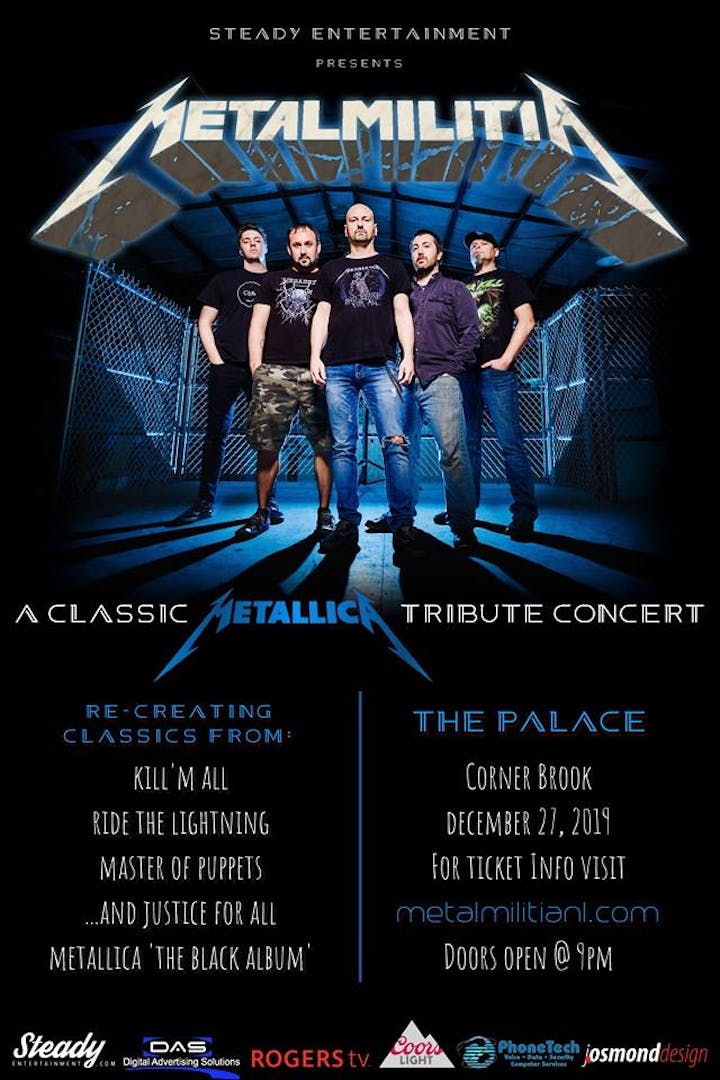 Steady Entertainment and Metal Militia have cooked up what will be one of the hardest rocking shows ever to hit Corner Brook!
Unlike other Metallica tribute shows, we are sticking to the oldies... the 'classic' Metallica. Trailblazing monster-tunes from KILL EM' ALL, RIDE THE LIGHTNING, MASTER OF PUPPETS...AND JUSTICE FOR ALL, and THE BLACK ALBUM. As much as we love all their records the classic 5 records are where our true metal hearts live!
We only produce the shows once every 2 or 3 years on average and each time we make it a little bigger - a little better...This year we are making this the biggest one yet!
This will be a concert experience rather than a bigger 'club' experience (Don't worry..we will still have a huge beer bar!). This means: bigger lights, bigger stage and props, bigger sound, just bigger everything! From live-action cameras to projection media, massive lights/sound - and beyond!
No typical club breaks here, just straight through in Metallica Style. We've been preparing every day and with the help of our amazing sponsors, This larger than life show can happen right here in Corner Brook!
So please mark the date and make plans for a truly metal experience Friday, December 27, 2019 at The Palace - more details to follow. Thanks for your support!
Proudly Sponsored by Steady Entertainment, Coors Light, Digital Advertising Solutions, Phonetech and Rogers TV.
Performers
Date and Time
Location
Refund Policy