Location
Daytime DDP Starting Point: Bryant Park (meet by statue of William C Bryant)
Bryant Park
New York, NY 10018
United States
After Nine Years, The DDP Returns To New York City!
About this event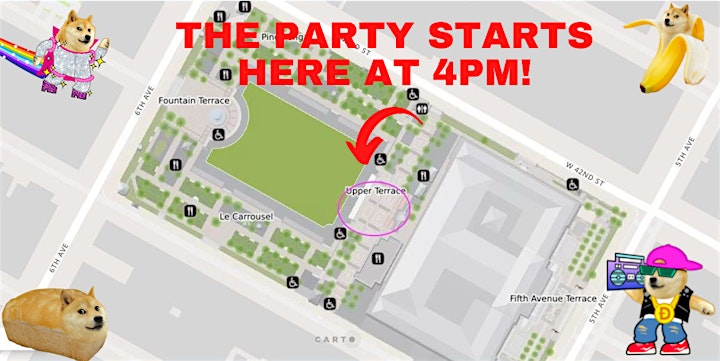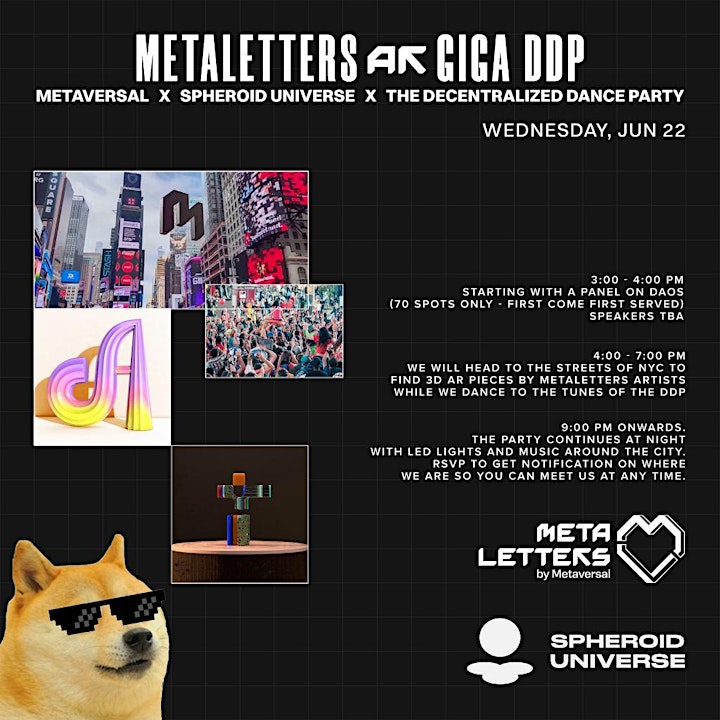 HOW A MOBILE (DECENTRALIZED) DANCE PARTY WORKS:
You carry a boombox and the DJ has an FM radio transmitter. All the boomboxes are tuned into the DJ's master FM broadcast, resulting in a mobile, synchronized sound system that has no Central audio source and no Central location.
This Open-Source Party roams the night, generating complete awesomeness, street by street and block by block, onto buses and subways, into public fountains and beyond. Together, we create an infectious epidemic of fun. A roaming Party adventure that lasts all night long!
Over the past decade, we've hosted over 100 of these Parties worldwide and our Capital-P Party philosophy has inspired many to spring up independently. Check out our Party Manifesto to learn more about the Party Revolution! https://tinyurl.com/4mswcyz5
ONE DAY-LONG EVENT!
3PM-7PM METALETTERS AR GIGA PARADE
Metaversal x Spheroid Universe x DDP present... MetaLetters AR Giga Parade! Join us for an Augmented Reality treasure hunt, taking over Times Square, Hudson Yards, and the Highline Park!
3:00 - 4:00 PM
The day will commence with a 1-hour panel on DAOs.
4:00 - 7:00 PM
We head to the streets to hunt 3D AR pieces by MetaLetters artists while dancing to the tunes of the DDP!
FOR ACCESS TO DAO PANEL AND LOCATION TEXT BEACON, REGISTER ---> HERE!
7PM-9PM RECHARGE
Recharge and rally the Troops at our sister Party location: 807 Washington Street
9:00 - MIDNIGHT - DDP THE STREETS! (STARTING AT 807 WASHINGTON STREET)
At sunset, the DDP will retake the streets of NY, to elevate and unify as many people as possible!
>>>>>>>>>>>>>>>>>>>>>>>
WHY NEW YORK?
Beyond Partying, "Decentralization" is an Unstoppable Technocultural Reformation with the power to unify and elevate all humanity. For reals.
And since the dawn of the blockchain, the DDP has been championing Open-Source values and fighting to ensure that this Revolution is promoted as an "Acceptance Movement" (not a Resistance) and a Party to which everyone is invited!
On the dance floor, it's easy to approach each other with Pure Hearts and Positive Intentions. We're hoping this Party will serve as a catalyst for community and conversation and exemplify what a Decentralized future might not only look, but FEEL like!
Metaversal, preeminent purveyors of the Open Metaverse resonate with this vision and invited us to NY to help create a daytime GigaParade for the massive NFT NYC festival and we figured that the Party should continue on into the night as well. Both Parties are a gift to the community and 100% Free and Open to anyone who wants to join 🙂
We seek to create spaces free of politics, division and struggle. Sacred moments in space and time to be One people on One planet. From there, we can do anything!
╔═════════════════╗
║ INVITE ALL YOUR FRIENDS!
╚═════════════════╝
THE THEME: Open-Source / Open Hearts
Much like Open-Source software, a DDP is a peer-produced, collaborative undertaking. Everyone pools their talents and energies to create and refine an ever-evolving manifestation of their hearts' desires.
And so!
This Party is all about creating and sharing as many unique and fun elements as possible- costumes, props, vehicles, projectors, lights, sounds, smells, dance routines, etc. We want everyone to bring their own innovative persona to the Party, to see what manifests when a Decentralized community of diverse minds comes together to Party. The only rule is: get as crazy and elaborate as possible.
This vision is fully articulated in our PARTY MANIFESTO: https://tinyurl.com/4mswcyz5
ALL-AGES!
DDPs are hosted exclusively in public spaces and we take great pride in creating the most inclusive Parties possible. EVERYONE, of every AGE, BACKGROUND and STYLE is 100% welcome and will be accepted with open arms and high-fives.
People show up to DDPs with their kids and parents all the time. Homeless people join in wherever we go. Even the police participate sometimes. It's all good. The more diversity the better.
In a time when much of the world is polarized and divided, "Capital-P Partying" represents a rare Common Goal that can instantly unite everyone it encounters.
Music is the universal human language, dancing is the universal human movement, and Partying is the Universal Human Identity!
REQUIRED READING:
Our ultimate goal is to unite the world in celebration and win the Nobel Peace Prize for Partying. Check out these links to learn more about the Glorious Cause:
>>> https://youtu.be/D-FDbrOD4Io
>>> https://youtu.be/4Cj_zhMaVVI
>>> https://tinyurl.com/yc36juu6
WEB 2.0!
Follow us for location updates, Party tips, companionship, etc.
DDP Twitter: bit.ly/DDPtwitter
DDP Mailing List: bit.ly/DDPmail
Instagram: bit.ly/DDPinstagram
Facebook: bit.ly/DDPfbook
Use the hashtag #TheDDP to share the Party location, photos etc!
╔═════════════════╗
║ INVITE ALL YOUR FRIENDS!
╚═════════════════╝
ALCOHOL:
Our alcohol policy is fully articulated in The Party Manifesto: https://tinyurl.com/4mswcyz5
RESPECT:
When we are Partying, be respectful of people and property and please don't litter. We have worked hard to build a good name for ourselves and the DDP.
And we've also maintained a good rapport with police forces around the world and because of this they have always helped us out and allowed everyone to have a good time. It is essential that we maintain these things if we want to continue to do these Parties. SPREAD THE WORD.
╔═════════════════╗
║ INVITE ALL YOUR FRIENDS!
╚═════════════════╝
BRING A BOOMBOX OR A PORTABLE BLUETOOTH SPEAKER:
We will provide boomboxes (and a few SoundBokses) to lend out, but it's best if you bring your own. We will also have a few mini FM tuners available to lend that can plug into any Bluetooth speaker to allow you to receive our signal!
Get your own mini FM tuner here: https://amzn.to/3NQk0kW
How to select and prepare a boombox: https://tinyurl.com/yyvjkask
How to build a boombox: https://tinyurl.com/mtymat92
MORE FUN STUFF TO BRING!
Beach balls, balloons, mini trampolines, hula hoops, jump ropes, ROLLERBLADES, razor scooters, sound systems, fog machines, Party lights, Mascot suits, Doges, Stilts, Vintage Exercise Equipment, Large Cumbersome Objects To Party With, musical instruments, mannequins, etc!
Unconditional Love,
Tom and Gary and The Elite Banana Task Force
╔═════════════════╗
║ INVITE ALL YOUR FRIENDS!
╚═════════════════╝
╔═════════════════╗
║ INVITE ALL YOUR FRIENDS!
╚═════════════════╝
╔═════════════════╗
║ INVITE ALL YOUR FRIENDS!
╚═════════════════╝
WARNING, RELEASE OF LIABILITY AND ASSUMPTION OF RISKS:
By participating in any or all events and related activities of Tom and Gary's Decentralized Dance Party, you warrant and agree that:
1. You are familiar with and accept that there is always the risk of serious injury and death resulting from participation in any organized recreational activity, particularly those involving Partying with Tom and Gary.
2. You have satisfied yourself, and believe, that you are physically, emotionally and mentally able to Party with Tom and Gary.
3. You understand that at all times the sole responsibility for personal safety remains with you; and
4. You will immediately remove yourself from participation if at any time you sense or observe any unusual hazard or unsafe condition or if you feel that you have experienced any deterioration in your physical, emotional or mental fitness, or exceeded your comfort level, for continued participation in any event or related activity.