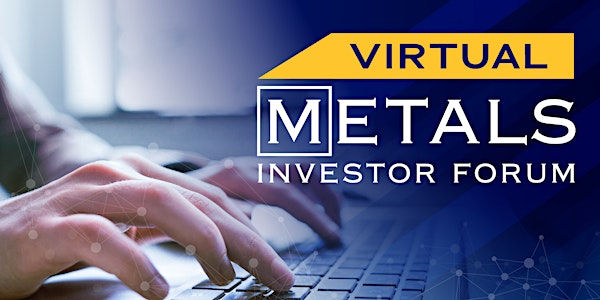 Metals Investor Forum January 14-15, 2021
MIF January 2021
About this event
Register today for the Virtual Metals Investor Forum on January 14th & 15th, 2021
Join Eric Coffin of HRA Advisories, Joe Mazumdar of Exploration Insights, Jay Taylor of J. Taylor's Gold, Energy & Tech Stocks, Brien Lundin, Publisher And Editor Of Gold Newsletter, Keith Schaefer of the Investor Whisperer, Greg McCoach of The Mining Speculator and Gwen Preston of Resource Maven for this exclusive online event.
The best way to make money in this industry is to learn about great companies before the other guys. That's what the Metals Investor Forum is all about.
Unlike other resource investor conferences, the Metals Investor Forum brings you a curated list of companies followed by one or more of the newsletter editors that host it.
The Event
When: January 14th from 8am-5pm (PST) and January 15th from 9am-4pm (PST)
Where: Online
Cost: Free to Attend with Invite & Pre-Registration
The Companies
The companies presenting at the Metals Investor Forum are as vetted as it gets - they have already cleared the high hurdle of earning a recommendation from Eric, Gwen, Joe, Jay, Keith, Greg, and Brien as companies with excellent management teams, great financials and promising properties.
Presenting companies so far include:
Thursday, January 14, 2021
All times are in Pacific Standard Time
SESSION 1
8:00 Jay Taylor
8:20 Eloro Resources Ltd.
8:35 Hannan Metals Ltd.
8:50 Eskay Mining Corp.
9:05 Triumph Gold Corp.
9:20 Omineca Mining and Metals Ltd.
9:35-10:00 Q&A Session
SESSION 2
10:30 Eric Coffin
10:50 Pucara Gold Ltd.
11:05 Sun Summit Minerals Corp.
11:20 Pan Global Resources Inc.
11:35 Orezone Gold Corp.
11:50 Tarachi Gold Corp.
12:05 Fireweed Zinc Ltd.
12:20 -12:30pm Q&A Session
SESSION 3
1:00 Joe Mazumdar
1:20 Trilogy Metals Inc.
1:35 Clean Air Metals Inc.
1:50 Regulus Resources Inc.
2:05 Blackstone Minerals Ltd.
2:20 GBM Resources Ltd.
2:35 -3:00 pm Q&A Session
SESSION 4
3:30 Greg McCoach
3:50 C2C Gold Corp.
4:05 Outcrop Gold Corp.
4:20 NorthStar Gold Corp.
4:35 -5:00 pm Q&A Session
Friday January 15, 2021
SESSION 1
9:00 Brien Lundin
9:20 Blackrock Gold Corp.
9:35 Cassiar Gold Corp.
9:50 Group Ten Metals Inc.
10:05 Vox Royalty Corp.
10:20 Oro X Mining Corp.
10:35 Genesis Metals Corp.
10:50-11:00 Q&A Session
SESSION 2
11:30 Gwen Preston
11:50 Newcore Gold Ltd.
12:05 Ridgeline Minerals Corp.
12:20 Canasil Resources Inc.
12:35 Evergold Corp.
12:50 Empress Royalties Corp.
1:05-1:30pm Q&A Session
SESSION 3
2:00 Keith Schaefer
2:20 Elemental Royalties Corp.
2:35 K2 Gold Corp.
2:50 Ceylon Graphite Corp.
3:05 Stone Gold Inc.
3:20 Hemlo Explorers Inc.
3:35 -4:00 pm Q&A Session
Register Today!
Please note, the Metals Investor Forum is about companies meeting with investors. It is NOT to be used for solicitation.