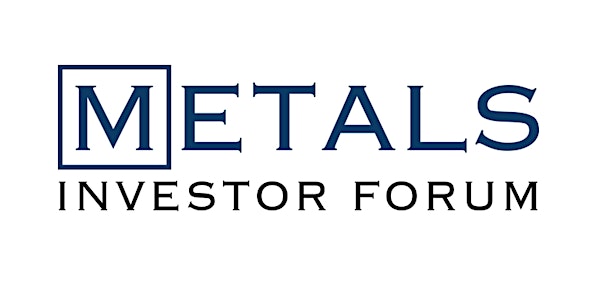 Metals Investor Forum May 2016
When and where
Location
Rosewood Hotel Georgia 801 West Georgia Street Spanish Ballroom & Promenade Vancouver, BC V6C 1P7 Canada
Description
Metals Investor Forum May 2016
---
Register today for the Saturday, May 14th and Sunday May 15th 2016 Metals Investor Forum!
Join Brent Cook of Exploration Insights, Eric Coffin of The HRA Advisories, Brien Lundin of Gold Newsletter, and Gwen Preston of Resource Maven at the Metals Investor Forum on Saturday, May 14th and Sunday May 15th, 2016 in Vancouver.
The mood in the junior mining sector is changing fast, especially in the gold sector. 2016 is shaping up to be a great year for the junior resource sector. Gold bottomed in December and it's currently among the strongest of asset classes. That's impressive given the rally the S&P has recently sustained. Generalist investors are returning to the sector. That means funding for new exploration and new discoveries. It also means a chance for rerating of companies already meeting with success. The best time to buy will be within the next couple months, when the markets are just beginning to heat up. That's what the Metals Investor Forum is all about.
The best way to make money in this industry is to learn about great companies before the other guys.

Unlike other resource investor conferences, Metals Investor Forum brings you a curated list of companies followed by one or more of the newsletter editors that host it.
Speakers
The Metals Investor Forum was founded to unite the expertise of four of the best newsletter writers in the mining industry.
Brent Cook, editor of Exploration Insights, is an independent analyst with 30 years of experience as both a field geologist and project and mining sector analyst. His experience runs the gamut from early stage target definition to resource evaluation and valuation. He's worked in over 60 countries on a huge range of projects and continues to act as an advisor to companies and investment funds in addition to writing Exploration Insights.

Eric Coffin has been publishing HRA Advisories for 20 years; this has given him the experience to identify market trends early and to understand exactly what a company needs to be successful. Thirty years of mining sector experience, from joint ownership of an exploration consultancy to sector wide data analysis and company specific advising on M&A, project selection, financing and market awareness give Eric the background to know what works.
Brien Lundin is the editor and publisher of Gold Newsletter, a leading precious metals and resource stock advisory publication since 1971. He is also host of the famed New Orleans Investment Conference, the oldest gold investment conference around. He has experience in financing and advising early-stage technology and natural resource enterprises. He is the nationally recognized publisher and editor of print and Internet-based publications specializing in these areas.
Gwen Preston launched Resource Maven after spending almost a decade writing about resource investing, most of it as a senior writer at The Northern Miner. Her subscribers benefit from the first-hand knowledge that she developed through years of visiting projects and interviewing geologists, analysts, and management teams.
The Event
When: Saturday, May 14th and Sunday May 15th 2016 from 9:00am-4:30pm
Where: Rosewood Hotel Georgia

Spanish Ballroom & Promenade
2nd Floor
Cost: Free to Attend with Pre-Registration
Group Rate for the Rosewood Hotel Georgia

Join other well-educated investors, company management, brokers and analysts and of course Brent, Eric, Brien, and Gwen at an event designed to provide attendees with the most up-to-date information available.
We've created a schedule that provides the perfect balance between time listening and time talking. A small group of companies, handpicked for their growth potential, will take you through their assets and upcoming plans. All of the companies invited are currently featured in Exploration Insights, HRA Advisories, Gold Newsletter, or Resource Maven so you know they're high quality.
Brent Cook, Eric Coffin, Brien Lundin, and Gwen Preston will also step up to the podium during the day to discuss the current market, commodity outlooks, and trading tactics designed to help you make money today.
Presentations will be interspersed with two hours of catered breaks, giving you ample time to meet company management or the newsletter writers face-to-face.
Special Guest Speakers
We are excited to announce that Jay Taylor and Jordan Roy-Byrne will be special guest speakers at our event.
Jay Taylor is the editor of J Taylor's Gold, Energy & Tech Stocks newsletter and host of the web-based radio show "Turning Hard Times into Good Times."
In 1981 he began publishing his gold-orientated newsletter. His continuing interest in gold mining prompted him to study geology, supplementing his MBA in Finance & Investments. Throughout his career Mr. Taylor worked as a banker, including holding a job in the Mining and Metals Group of ING Barings in New York. In 1997 he resigned from ING Barings to devote himself full time to researching mining & technology stocks, writing his newsletter and assisting companies in raising venture capital.
Jay is also a frequent guest on CNBC, Fox, Bloomberg and BNN and guest speaker at various mining conferences in the U.S., Canada, Switzerland and Asia.
Jordan Roy-Byrne, CMT is a Chartered Market Technician and member of the Market Technicians Association. He is the publisher and editor of TheDailyGold Premium, a publication which emphasizes market timing and stock selection. He is also the author of the 2015 book, The Coming Renewal of Gold's Secular Bull Market. Jordan's work has been featured in CNBC, Barrons, Financial Times Alphaville, Kitco and Yahoo Finance.
He is quoted regularly in Barrons.
The Companies

The companies presenting at the Metals Investor Forum are as vetted as it gets – they have already cleared the high hurdle of earning a recommendation from Brent, Eric, Brien or Gwen as companies with excellent management teams, great financials and promising properties.
All four newsletter writers stress that the first quality on that list – excellent management – is essential to the success of a junior mining company. The problem is that it's hard to assess management without being able to look them in the eye and ask the questions that matter to you.
The Metals Investor Forum gives you that time. Most companies will be represented by their President or CEO, giving attendees the valuable opportunity to formulate a firsthand opinion, while also getting a complete company update.
First Mining Finance Corp. (FF)

Evrim Resources Corp. (EVM)

Kaminak Gold Corporation (KAM)

West Red Lake Gold Mines Inc. (RLG)

Colorado Resources Ltd. (CXO)

CanAlaska Uranium Ltd. (CVV)

Auryn Resources Ltd. (AUG)

SilverCrest Metals Inc. (SIL)

Goldsource Mines Inc. (GXS)

Pure Gold Mining Inc. (PGM)

Newmarket Gold Inc. (NMI)

Brazil Resources Inc. (BRI)

Avino Silver & Gold Mines Ltd. (ASM)

Klondike Gold Corp. (KG)

Sirios Resource Inc. (SOI)

Integra Gold Corp. (ICG)

Nevsun Resources Ltd. (NSU)

Orezone Gold Corp. (ORE)

Lithium X Energy Corp. (LIX)

TriMetals Mining Inc. (TMI)

Precipitate Gold Corp. (PRG)

Northern Shield Resources Inc. (NRN)

Millrock Resources Inc. (MRO)

Sandspring Resources Ltd. (SPP)

Sabina Gold & Silver Corp. (SBB)

Almadex Minerals Limited (AMZ)

Constantine Resource Metals Inc. (CEM)

Golden Reign Resources Ltd. (GRR)

Fission Uranium Corp. (FCU)

Aston Bay Holdings Ltd. (BAY)

Adamera Minerals Corp. (ADZ)

Victoria Gold Corp. (VIT)