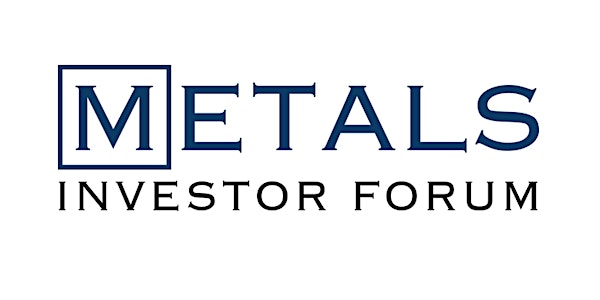 Metals Investor Forum May 24+25, 2019
When and where
Location
Rosewood Hotel Georgia 801 West Georgia Street Spanish Ballroom & Promenade Vancouver, BC V6C 1P7 Canada
Description
METALS INVESTOR FORUM: FRIDAY MAY 24TH AND SATURDAY MAY 25TH, 2019
---
Register today for this exclusive event at the Rosewood Hotel Georgia in downtown Vancouver on Friday May 24 and Saturday May 25, 2019!
Join Eric Coffin of HRA Advisories, Joe Mazumdar of Exploration Insights, Jay Taylor of J. Taylor's Gold, Energy & Tech Stocks, John Kaiser of KaiserResearch Online, David Forest of The International Speculator, Jordan Roy-Byrne of The Daily Gold, Greg McCoach of The Mining Speculator and Gwen Preston of Resource Maven for this exclusive event at the Rosewood Hotel Georgia in downtown Vancouver.
The best way to make money in this industry is to learn about great companies before the other guys.
That's what the Metals Investor Forum is all about. Unlike other resource investor conferences, the Metals Investor Forum brings you a curated list of companies followed by one or more of the newsletter editors that host it.
The Speakers
Eric Coffin has been publishing HRA Advisories for 20 years; this has given him the experience to identify market trends early and to understand exactly what a company needs to be successful. Thirty years of mining sector experience, from joint ownership of an exploration consultancy to sector wide data analysis and company specific advising on M&A, project selection, financing and market awareness give Eric the background to know what works.
Gwen Preston launched Resource Maven after spending almost a decade writing about resource investing, most of it as a senior writer at The Northern Miner. Her subscribers benefit from the first-hand knowledge that she developed through years of visiting projects and interviewing geologists, analysts, and management teams.
Jay Taylor is the editor of J Taylor's Gold, Energy & Tech Stocks newsletter and host of the web-based radio show "Turning Hard Times into Good Times." In 1981 he began publishing his gold-orientated newsletter. His continuing interest in gold mining prompted him to study geology, supplementing his MBA in Finance & Investments. Throughout his career Mr. Taylor worked as a banker, including holding a job in the Mining and Metals Group of ING Barings in New York. In 1997 he resigned from ING Barings to devote himself full time to researching mining & technology stocks, writing his newsletter and assisting companies in raising venture capital.
Joe Mazumdar is an Economic Geologist/Analyst at Exploration Insights. Prior to that he was a senior mining analyst at Haywood Securities, then Canaccord Genuity. His work experience includes Director of Strategic planning, Corporate development at Newmont and Senior market analyst/trader at Phelps Dodge. Mazumdar also worked in technical roles for IAMGOLD in Ecuador, North Minerals in Argentina/Chile and Peru, RTZ Mining and Exploration in Argentina, Chile, Peru and Ecuador and MIM Exploration and Mining in Queensland, Australia, among others. Mazumdar has a Bachelor of Science in geology from the University of Alberta, a Master of Science in Geology and Mining from James Cook University and a Master of Science in Mineral Economics from the Colorado School of Mines.
John Kaiser is the founder of Kaiser Research Online, an information portal covering the Canadian publicly listed resource sector, and the publisher of his Spec Value Hunter and Bottom-Fish recommendations. His analysis focuses on the four key narratives that drive the resource sector. John Kaiser is an independent analyst based in the San Francisco area who has covered the junior resource sector since 1983. After a decade working as a research director in Vancouver he left the brokerage industry in 1994 to launch Kaiser Research Online and create the "rational speculation model" as a tool to evaluate the speculative value of exploration projects. Kaiser Research Online is a subscription service that publishes his analysis, provides searchable information on over 1500 Canadian listed mining and exploration companies, and tracks trends within the junior sector and their relationship to macro trends
Jordan Roy-Byrne, CMT, MFTA is a Chartered Market Technician and Master of Financial Technical Analysis who is a member of the Market Technicians Association. He is the editor and publisher of TheDailyGold Premium, a publication which emphasizes market timing and stock selection for precious metals investors. He is also the author of the 2015 book, The Coming Renewal of Gold's Secular Bull Market which is available for free at TheDailyGold.com/Book. Jordan's work has been featured in CNBC, Barrons, Financial Times Alphaville, Kitco and Yahoo Finance. He has been quoted in Barron's. Jordan has been a speaker at the following conferences: PDAC, Cambridge House and the Metals Investor Forum and his website TheDailyGold.com was recently named one of the top 50 Investment Blogs by DailyReckoning.
Greg McCoach is an ardent student of history and entrepreneur who has successfully started and run multiple businesses over the past 37 years. During the last 18 of those years, he has written his widely-followed newsletter, The Mining Speculator in search of exponential gains within the junior mining sector. Mr. McCoach is also founder and CEO of AmeriGold.com, a bullion dealer in its 19th year. He has appeared on national news channels and is a popular speaker at both private and public conferences.
David Forest is chief investment analyst for the International Speculator and has been successfully founding and advancing resource projects for nearly two decades. As a co-founder and Chief Operating Officer of Sunward Resources, he was directly involved in raising $80 million in equity financing and oversaw the development of a 10-million-ounce gold resource at the Titiribi gold-copper porphyry project, which was sold to NovaCopper (now Trilogy Metals) in 2015. Mr. Forest also founded and serves as Managing Director of N-Side Mining Technology Pte Limited, a firm developing global mineral exploration projects using proprietary LongWave InfraRed (LWIR) satellite imaging. He holds a B.Sc. (Honors) in Geology from the University of Alberta.
The Event
When: Friday, May 24th and Saturday, May 25th from 9:00am-4:30pm
Where: Rosewood Hotel Georgia, Spanish Ballroom & Promenade, 2nd Floor
Cost: Free to Attend with Invite & Pre-Registration
Join other well-educated investors, company management, brokers and analysts and of course Greg, Eric, Joe, Jay, John, Jordan and Gwen at an event designed to provide attendees with the most up-to-date information available.
We've created a schedule that provides the perfect balance between time listening and time talking. A select group of companies, handpicked for their growth potential, will take you through their assets and upcoming plans.

Eric Coffin, Jay Taylor, Joe Mazumdar, John Kaiser, Jordan Roy-Byrne, Greg McCoach and Gwen Preston will also step up to the podium during the day to discuss the current market, commodity outlooks, and trading tactics designed to help you make money today.
Presentations will be interspersed with two hours of catered breaks, giving you ample time to meet company management or the newsletter writers face-to-face.
The Companies
The companies presenting at the Metals Investor Forum are as vetted as it gets - they have already cleared the high hurdle of earning a recommendation from Eric, Jay, Joe, John, Greg, Jordan or Gwen as companies with excellent management teams, great financials and promising properties.
All newsletter writers stress that the first quality on that list – excellent management – is essential to the success of a junior mining company. The problem is that it's hard to assess management without being able to look them in the eye and ask the questions that matter to you.
The Metals Investor Forum gives you that time. Most companies will be represented by their President or CEO, giving attendees the valuable opportunity to formulate a firsthand opinion, while also getting a complete company update.
Register Today While Seating is Available!