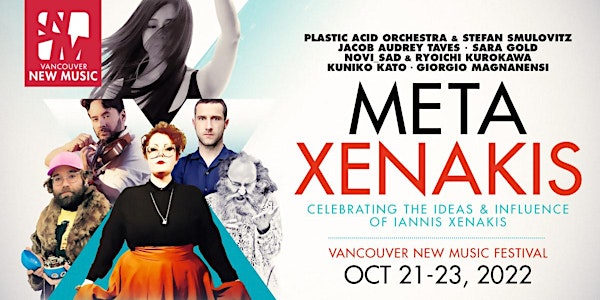 Metaxenakis – Night 1: Plastic Acid Orchestra, Jacob Audrey Taves
Metaxenakis celebrates the ideas and influence of Iannis Xenakis. Night 1 features Plastic Acid Orchestra and Jacob Audrey Taves.
When and where
Location
Annex 823 Seymour Street Vancouver, BC V6B 3L4 Canada
Refund Policy
Contact the organizer to request a refund.
Eventbrite's fee is nonrefundable.
About this event
For Vancouver New Music's 2022 festival we celebrate Iannis Xenakis (1922-2001), a visionary artist, architect and philosopher who made an indelible imprint on the arts in the twenty-first century. As part of a transcontinental centenary celebration of Xenakis' life and work, this three-day festival will offer six performances by local and international artists inspired by Xenakis' artistic and philosophical legacy.
Featured artists include Sara Gold (Vancouver) , Kuniko Kato (Japan), Giorgio Magnanensi (Vancouver) , Novi_sad (Greece) + Ryoichi Kurokawa (Japan/Germany), Plastic Acid Orchestra + Stefan Smulovitz (Vancouver/Roberts Creek) and Jacob Audrey Taves (Edmonton).
Artist chats 7:15pm each night.
Please arrive at least 15 minutes before the performance starts. Latecomers will be seated between performances.
.....................
NIGHT 1
Plastic Acid Orchestra w/ Stefan Smulovitz
Multitopes 1&2
Inspired by the way octopus communicate with each other by changing the colour and texture of their bodies I developed the Mad Scientist Machine – a LED light system controlled by custom software that allows for the transmission of musical ideas via light. Multitope 1 uses a spacialized orchestra to further explore the glissando of Xenakis's Metastasis. Multitope 2 features Smulovitz' Kenaxis laptop music system soloing with the orchestra. Xenakis and his ideas have been a major inspiration in the creation of all of Smulovitz's computer systems and thinking about space, music and form.
Jacob Audrey Taves
The Remaining Functionality of Abandoned States
Systems of organization chug along as they pass their functionality, usefulness or are proven ineffective at achieving their aims. They leave behind broken bits of data, of infrastructure and of human beings while operating on automatic by people who have never met their bosses, as an algorithm or as an abandoned construct running on fumes. Unable to ever balance such fluid and complex equations as those that govern life, every system has its left behinds: the man who tunes every radio to the classic rock station; the quaint believer in the free market. In more serious terms the left behinds rot away and die, unable to access this or that because of paperwork or negotiations here or there, because of cracks in the functionality of systems that can never achieve balance. Some are left behind in the negative space between where systems of organization should meet, but don't.
Channeling the detritus of malignant policy and organization by pushing the fractured limits of hardware and software as a metaphoric exploratory process, The Remaining Functionality of Abandoned States does not necessarily make a political statement nor raise any questions in and of itself. It builds structures from debris and chewed up, half used bits and makes itself at home in negative space. Utilizing the three dimensional and architectural qualities of sound, The Remaining Functionality of Abandoned States gives life to the metaphor by creating audible constructions from left behind errors which interpret the emotional response of being a part of many failed systems while creating a unique new and living form.
Photos: Jacob Audrey Taves by Lauren Ray. Stefan Smulovitz and Plastic Acid Orchestra by Diane Smithers.