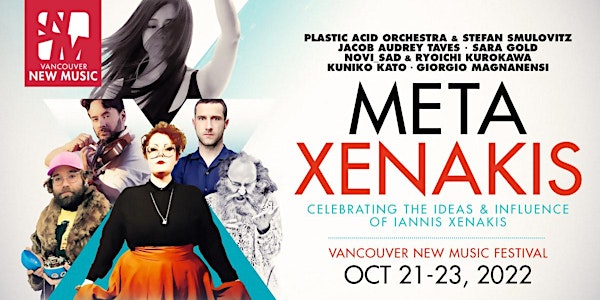 Metaxenakis – Night 2: Sara Gold, Novi_sad + Ryoichi Kurokawa
Metaxenakis celebrates the ideas and influence of Iannis Xenakis. Night 2 features Sara Gold, and Novi_sad + Ryoichi Kurokawa
When and where
Location
Annex 823 Seymour Street Vancouver, BC V6B 3L4 Canada
Refund Policy
Contact the organizer to request a refund.
Eventbrite's fee is nonrefundable.
About this event
For Vancouver New Music's 2022 festival we celebrate Iannis Xenakis (1922-2001), a visionary artist, architect and philosopher who made an indelible imprint on the arts in the twenty-first century. As part of a transcontinental centenary celebration of Xenakis' life and work, this three-day festival will offer six performances by local and international artists inspired by Xenakis' artistic and philosophical legacy.
Featured artists include Sara Gold (Vancouver) , Kuniko Kato (Japan), Giorgio Magnanensi (Vancouver) , Novi_sad (Greece) + Ryoichi Kurokawa (Japan/Germany), Plastic Acid Orchestra + Stefan Smulovitz (Vancouver/Roberts Creek) and Jacob Audrey Taves (Edmonton).
Artist chats 7:15pm each night.
Please arrive at least 15 minutes before the performance starts. Latecomers will be seated between performances.
.....................
NIGHT 2
Sara Gold
Sara Gold specializes in an experimental audio engineering technique known as no input mixing. Utilizing 1970's large format console touring mixers that have been routed in various ways to create full frequency feedback tones and blips. Line noise cycling to create a powerful sub bass experience, sidechained with an original vintage analog TR-909 drum machine.
Sirens
Novi_sad presents Sirens live AV, a project by Novi_sad + Ryoichi Kurokawa.
Ryoichi Kurokawa & Novi_sad collaborate to create Sirens, an impressive body of work comprising five audiovisual pieces which explore the aesthetics of data. Sirens is a collection of digitally rendered visual formations and sound compositions, whose intensity fluctuates as in relation to the unfolding of the economic downturn. Tied to the fate of the global markets, the more the economy fails (as represented by data and indexes); the more developed and complex the coupled sounds and visual sequences become. Any disintegration of financial fortunes leads directly to the emergence of a greater creative energy in an inverse 'tug-of-war'.
Sirens elucidates the relationship between generative visualization and cinematic practices, as this computer generated video work transforms our understanding of the relationship between moving image, data and the cinematic. By immersing the spectator in an audiovisual scape and narrative, the work heightens the performativity of processes, be they 'technological' or 'natural'. The title of the work is inspired by the Greek mythological creatures that seduce sailors ashore into danger, as a metaphor for market fervour leading to economic collapse.