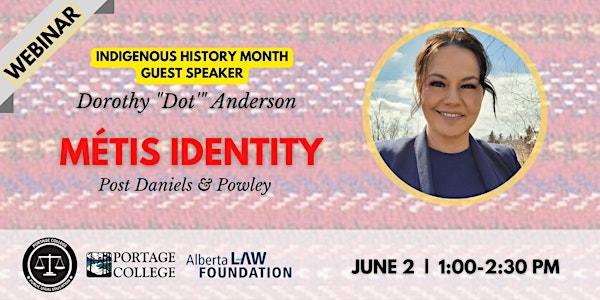 Métis Identity: Post Daniels & Powley
Dot Anderson, former elected secretary of the Metis Settlements General Council, provides insight into the the issues around Métis Identity
About this event
Way before there was a Canada, there were the Bois-Brûlés, Half-Breeds, Country-born, and Otipemisiwak ; Peoples with an unique culture in the Canadian North-West, with their own language, laws, history and traditions. Later, Riel's people chose the term Métis, a French word that means mixed, as the name of their nation and have used it since the 1830s. Métis stories are a part of the evolution of Canada.
Despite this long history there is much confusion, uncertainty and unsettledness about who can be Métis, nationhood and inherent Aboriginal rights. At issue is the meaning of Métis in several contexts: including legal, political, community and personal.
In 1982, the Canadian Constitution included Métis as one of the Aboriginal Peoples of Canada, who are entitled to certain Aboriginal Rights; after this inclusion there was a surge with individuals and groups claiming Métis identity. This self-identification and the rise of "race-shifters" continued to grow with court decisions R. v. Powley 2003 (determined that Métis communities could possess hunting rights) and Daniels v Canada 2016 (Métis and Non-Status peoples are considered Indians under section 91(24) of the Constitution Act, 1867).
Amid all this confusion, Métis political organization's are struggling with their own membership criteria; This is the case with the Métis belonging to the eight Metis Settlements in Alberta, who with their unique land-base and legislation are working through difficulties posed by the membership provisions in the Metis Settlements Act.
Join us, as Dot Anderson, from Gift Lake Metis Settlement, and former elected Secretary of the Metis Settlements General Council provides insight into the issues around Métis Identity today.
Details on how to join this session on Zoom will be emailed 1 day prior. If you do not receive the invitation, please contact the host at shelley.jackson@portagecollege.ca
Please visit PLEonline.ca or our Eventbrite event listings page for information on other upcoming free public legal education events.