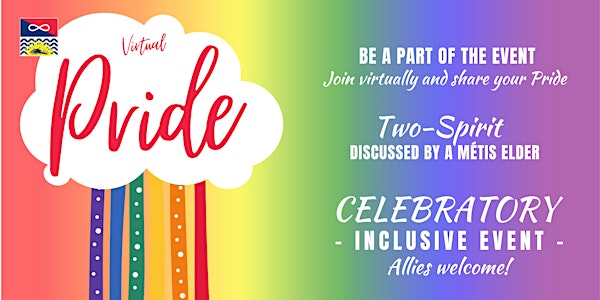 Métis Pride Celebration
Métis Pride Celebration - Virtual Event
About this event
Join the Ministry of Youth at Métis Nation BC for an inclusive, celebratory, PRIDE EVENT from 2:00 – 4:00 pm on Saturday August 1st for 2SLGBTQ+ (Two-spirit (2S), lesbian, gay, bisexual, trans, queer, and/or non-binary). Allies and citizens of all ages are welcome to attend. Drop in and virtually share your PRIDE by sharing a message, poem, music, or artwork. In celebration, we will be pulling prizes for virtual participants.
Guests include:
• Métis Two-Spirit Elder, Charlotte Nolin
• Qmunity
• Youth's Region 4 Representative, Drew Nagao
AGENDA
2:00 – 2:10 Welcoming and Zoom housekeeping
2:10 – 2:30 Smart Terms with Qmunity
2:30 – 2:40 Pride Participation Interaction
2:40 – 3:00 MMF's Two Spirit Local
3:00 – 3:15 Pride Participation Interaction
3:15 – 3:20 MYBC 2SLGBTQ+ Working Group
3:20 – 3:40 Pride Participation Interaction
3:40 – 4:00 Closing
In an effort to provide a safe event space, pre-registration is required for this event.
*Registration is through EventBrite and the Zoom link and code will be mailed out the day before the event. *
To participate in the PRIDE PRIZE DRAW simply turn on your camera and we will call on you in the chat. Once called, turn on your mike to share something with the viewers and we will pull a Prize. Prizes include jewellery, books, mugs, gift cards, bags, art pieces, colouring books, etc.
On Zoom, attendees are recommended to edit their name and add pronouns to be more inclusive. Ie. Nikki (She/Her) for this event.