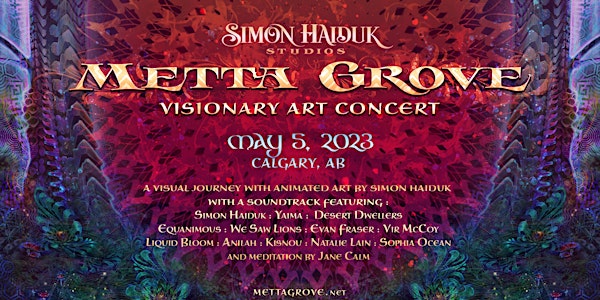 Metta Grove Visionary Art Concert by Simon Haiduk
Metta Grove is a cinematic visionary art concert with roots in guided meditation and psychedelic experience.
Date and time
Fri, May 5, 2023 7:00 PM - 9:30 PM MDT
Location
Cardel Theatre 180 Quarry Park Blvd Calgary, AB T2C 3G3 Canada
About this event
2 hours 30 minutes

Mobile eTicket
Metta - derived from the Pali language, an ancient tongue composed of Buddhist scriptures. The following can be attributed; loving-kindness, friendliness, goodwill, benevolence, fellowship, non-violence, and an active interest in others.
Grove - a small wood, orchard, or group of trees.
Metta Grove is a cinematic visionary art concert with roots in guided meditation, psychedelic experience, and the cultivation of community connections.
If you enjoy:
Visionary art expressions of nature
Rhythmic world music
Relaxing ambient music
Inspirational vocals
Electronic dance music
Sound Therapy
Guided meditation
In-person connections with like-minded community
then this is for you.
This concert features uplifting music and visionary art that will transport you to another realm. The combination of soothing sounds and stunning visuals will help you let go of your daily stress and worries and allow you to fully immerse yourself in the present moment.
You can sit back and relax into this visionary experience that will enliven your senses, leaving you calm and clear.
...
At Cardel Theatre - 180 Quarry Park Blvd. Calgary
The venue is easily accessible by:
Car (plenty of free parking available)
Public transit
Wheelchair accessible
......
Simon Haiduk is a multimedia artist working with several visual art and sonic mediums with themes that have an emphasis on nature and metaphysical energy. His art is exhibited globally and he is recognized as a significant contributor to the modern Visionary Art movement. Culminating over fifteen years of thematic creativity and collaborations, he has found a synthesis of his explorations with various mediums by fusing them into an audiovisual concert.
This concert features stunning visuals of Simon's digital paintings transformed into animations. These animations are woven with layers of light and sound in a live performance*, generating a unique synchronous expression. The soundtrack is a dynamic range of Simon's ambient music, with heartwarming melodies, and pulsing rhythms from other world-class musicians with whom he has collaborated. *This specific event on March 5th does not include live musicians, it features pre-recorded assets combined and presented as a cinematic concert.
See the soundtrack credits here
Metta Grove is a meditation on our intrinsic connection to nature and the foundations of this reality as light and sound.
The guided journey is tailored to help you find inner peace, and connect with the natural world around you. Whether you're new to meditation or a seasoned practitioner, you'll find something of value at this concert.
It is intentionally designed for presentation in group settings to feel a sense of unity and connection with others. These settings might include ceremonial, plant medicine or meditative spaces though it is also suitable for any media viewing container and appropriate for almost all ages.
Simon will give a presentation with insights about his creative inspiration, tools, process and integration of plant medicines. Also, Simon's partner, therapeutic counsellor, Jane Calm, will give a presentation on everyone's access to inherited psychic abilities.
Metta Grove Schedule:
Doors open at 6 pm (selective seating and time to browse vendors)
The Presentation starts at 7 pm
Presentation Duration: ~ 2 hrs (includes short break)
Event Duration from doors open to close is around 3 hrs.
There will also be time after the presentation for connecting with others and vendors.
There will be a vendor area with prints and other merch of Simon Haiduk art, including other vendors offering life-enhancing products.
There will be no food or drink vendors, so it is recommended to bring whatever you need.
Please join us for an unforgettable night of relaxation, spiritual connection, and visionary art. You'll leave feeling renewed, refreshed, and ready for an inspired world. So, don't miss out on this unique and transformative experience – get your tickets today!
Volunteer opportunities are available - please contact the host, Simon Haiduk, with your request to help.
Many thanks to the sponsors of this event
Unicorn Cup - https://unicorncup.ca/
Third Eye Tapestries - https://thirdeyetapestries.com/
Spirit Plant Medicine Conference - https://spiritplantmedicine.com/
Agenda
6:00 PM - 7:00 PM
Doors Open
7:00 PM - 7:45 PM
Presentation Starts
7:45 PM - 8:00 PM
Intermission
8:00 PM - 9:12 PM
Show Starts