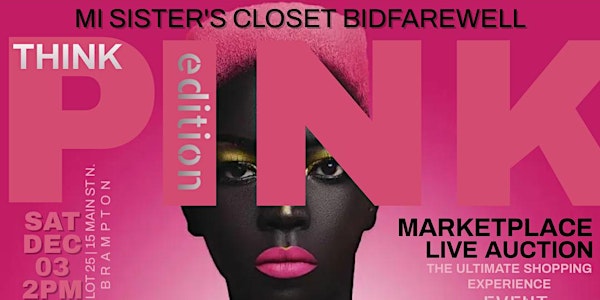 MI SISTERS' CLOSET #BidFarewell The Hottest Fashion Event in the City
Wardrobe Sharing at it's BEST! Make Money from your closet. Live Fashion Auction that puts the emphasis in Girls Just Wanna Have FUNds...Fun
When and where
Location
Lot 25 15 Main Street North Brampton, ON L6X 1M8 Canada
About this event
EVENT NAME: MI SISTERS' CLOSET #Bid Farewell
EVENT CONCEPT:
Emotional Cluttering… We all have that pile of clothes we keep in hopes of losing or gaining 10 pounds, the numerous pairs of shoes that hurt our feet but are too cute to get rid of, and the dresses from past events that we only wore once but were photographed too much to wear again, or that perfume doesn't go well with your natural scent.  Holding on to these items serve no purpose other than cluttering our space and making us feel bad.  Selling unused, gently used, great fitting or ill-fitting clothing is a quick, chic and easy way to earn a little extra cha-ching ...Girls Just Wanna Have Fun and #GirlsJustWannaHaveFunds Live Auction ladies nite really places an emphasis on the social aspect of women getting together for a GREAT NIGHT AND CAUSE; while thrift shopping with style and Making funds on the side!    
EVENT SOCIAL AWARENESS: Mi Sister's Closet #BidFarewell will rummage through your items that were not auctioned off; Any items that are deemed worthy they will be donated to our Street Drive initiative called "Listen to Mi The Voice Projekt"  which puts focus on delivering justice to women and young adult females violated by gender based violence.  This initiative will also partner with organizations or groups cross border that focuses on women's wellness and attempt to service the same target market in the Caribbeans.  There will also be a Silent Auction; the portion of the proceeds will be donated to Listen To Me The Voice Projekt. 
EVENT VISION: To Have Mi Sisters' Closet #BidFarewell as a Signature Event in the GTA and to Foster a spirit of giving, and receiving while having fun with other likeminded women.
EVENT NIGHT: HAVE FUN * CONNECT* SELL FOR  A BUCK *GET A BUCK*  GIVE A BUCK!
Not only will you enjoy an afternoon out with the ladies, you have been invited to attend a special evening filled with entertainment and spirited girls' fun!  
Network like "Sex In The City", Have Fun Like "Girlfriends" and Give like you have "POWER" and own an "EMPIRE".  The Perfect Event to SPEND Chic, SELL like a Boss and GIVE like Mother Theresa! 
EVENT MEDIA: Lights, Camera….Auction, I mean Action!   
Please remember it's Ladies' Nite and you MUST always LOOK and FEEL your BEST! Behind the Scenes Event photorgraphy and videography will be captured for Advertising and Marketing of Event. 
EVENT BID PRICING: $2-$20 Starting Bid range for all except Featured and Highlights; those Bid start at whatever price the Seller wants to. Label of Love  [Exquisite Name Brands] will also start at a higher starting bid.
CELEBRITY CLOSET: Every Mi Sister's Closet Event will have a Fashion Figure which will be an A-Lister, Influencer or Celebrity that will have their personal Fashion items in a closet at the event. A portion of the proceeds from that closet will be donated to our Think Pink Edition recipients; an iniative that focuses on women's wellness and selfcare.
FAQs
What exactly is this event?
OKAY. 3 WORDS. LADIES NITE OUT!  Okay not really ...lol... it's a little more!
It's a Chic way to get rid of and purge fashionable items out of your wardrobe that is adding to your clutter! It's A Cute Way to Make Money... and let's not forget It's a Good Look To Care for other's wellness; by donating any item [s] that were not auctioned out; to women and young adults girls currently living in the streets.
1. The LIVE AUCTION is where you will make a little pocket money; You as the seller determine how much funds you Make.  
2. There will also be a SILENT AUCTION where 50% of the proceeds are used towards an initiative called Listen To Me The Voice Projekt and
3. Lastly Clothing Items will be DONATED to our Street Drive.  The Think Pink Editions will donate monetary proceeds from their closets. Recipients of Think Pink Edition will be announced at events.
 FAQs
WHAT TYPE OF SELLERS ARE STRUCTURED AT THE EVENT?
There are 4 levels of sellers structured for this event.  
LEVEL A - FASHION FIGURE SELLER
You must be a Celebrity. A-Lister [Social Media Influencer] 
Please be advised that there will be only ONE Fashion Figure per event.
This Seller will be given 30 Minutes on the Auction Stage.
Maximum items 45 to sell off during Live AUCTION
Fashion Figures do not have to manage their closets - Concierge Service available.
Starting Bids determined by Fashion Figure & Mi Sister's Closet Team
LEVEL ONE -"HIGHLIGHT SELLER" 
You must be a Popular Designer or Ladies Boutique  Store or Online. 
Please be advised that there will be maximum of 3 Highlight seller per Auction Night. This Seller is Given a Maximum of 20 minutes to sell off their items during Live AUCTION
Maximum Items enough to fill one [Maximum of 40 items] Fashion Clothing Rack
Highlight Sellers will get 1 Rack [Additional Rack is $35]
Starting Bids per item determined by the Seller. 
LEVEL TWO -"FEATURED SELLER"  
Please be advised that there will be a maximum of 10 featured sellers per Auction Night.   This Seller is Given a Maximum of 15 Minutes to sell off their items during Live AUCTION.
Maximum25 Items on Fashion Clothing Rack
Featured Sellers will get 1 Rack [Additional Rack is $35]
Starting Bids per item $5-$20 for Gently Used Items | Label of Love [Name Brands] bids start at what the Seller determines. 
LEVEL THREE -"CONSIGNMI SELLER" 
This is offered to individuals who would like to share a Rack with others at the event; this level of seller does not get personal rack. 
This level of Seller does not have to be at the Event; one of our #Bidfarewell Assistant will Manage your Closet for you. 
Please be advised that there will be a maximum of 4  Consignmi sellers per Auction Night. 
The items on these racks do not get Live Auctioned off ;but they will remain in the section designated for these racks to be apart of the Marketplace during the entire event 
Maximum Items 15
This level of selling is where "Let's Make A Deal" takes place.  The attendees can offer a bid for the items on the rack and the Seller determines if they want to let go of the item for the offered price. 
The deal should be a win-win for both parties. 
LEVEL FOUR -"ENTRANT SELLER" 
This is offered to all individuals attending the event.
This level of Seller does not get a personal rack but is given the opportunity of 30 seconds during event intermissions to auction off their one item *This Must be advised during registration. 
A collection of Article of clothes from entrant sellers will be combined on one Rack that will be added to the Market Place section of the event.
Maximum item 1
EVERY LADY IS A SELLER AT THIS EVENT.  GIRLS JUST WANNA HAVE FUND$
FAQs
 How do I determine which ticket I have to purchase?
If you did not spoken to the organizer personally , then you are not considered a "HIGHLIGHT", "FEATURED"  or "CONSIGNMI" SELLER so you would purchase a regular ticket of only $40 | Entry *Plus bring one item to be auctioned off this is considered ENTRANT SELLER.  
FAQs
Is There A Cost to Become a Seller?
Yes.  Honestly the fees are minimal and to cover the expenses to host such a Signature Event!!! Please review the below 
RATES
$ 20 | Regular Entry *Level 4 Seller
$100 | ConsignMi *Level 3 Seller *If Seller Can not attend add an additional $25
$150 | Featured Seller *Level 2 Seller 
$225 | Highlight Seller *Level 1 Seller 
FAQs
Can I Really Make Money At This Event?
It's Easy as 1,2,3 or if you don't like math A,B,C!!!! 
1. CLEAR OUT YOUR CLOSET Let it Go
2. CONTACT THE ORGANIZER AND BECOME A SELLER *to be a Highlight Seller there are other requirements needed. 
3. THINK ABOUT $$ *If You Know You Will not wear the outfit again..even though it is super HOT and CUTE make some quick change and auction it off [All items starting bid can range from $2-$20 determined by the seller as the starting bid...the bidding can supersede your starting bid] BUT You could build your rack with individual pieces or make a COMPLETE Outfit from HEAD TO TOES and that would be the "FEATURED | OWN MI LOOK" segment of that Seller's Rack. The Featured Look will be Modelled on a Live Model and that look can have a starting bid of whatever is determined by the seller.  Bear in Mind that a Featured Seller can have more than one outfit but there is only ONE "Featured |Own Mi Look".  
4. IF ALL ITEMS ARE NOT AUCTIONED OFF IN THE ALLOTTED TIME, there will be a LAST CHANCE #GRABMI Portion during our Intermission Segmnet of the night; that will give the seller the opportunity for people to visit their RACK and negotiate a deal that works for both the buyer and seller. 
5. INVITE YOUR GIRLS *You would be shocked to know how many of your girls would love the opportunity to dip into your closet! 
 FAQs
Are there ID or minimum age requirements to enter the event?
No. The Legal Drinking Age 19 yrs in Ontario so there will be bracelets given to those legal to drink 
 FAQs
 What are my transportation/parking options for getting to and from the event?
FREE PARKING AT REAR OF VENUE. Bus  Transit Stop is close to venue. Uber Friendly 
 FAQs
 What can I bring into the event?
If You Are a:
All Level of Sellers MUST contact the organizer of event to ensure that you are set up to participate as a seller at the event. Contact 1.855.488.1774 ext.4
HIGHLIGHT SELLER [Celebrity, A-Lister or Boutique Owner] You only have to bring your items to be auctioned off and Clothing hangars.
FEATURED SELLER You only have to bring your items to be auctioned off and Clothing hangars.
CONSIGNMI SELLER You only have to bring your items to be auctioned off and Clothing hangars.
ENTRANT SELLER [This would be considered regular admission; you can bring one piece of fashionable item to be auctioned off during our OPEN BID Segment of the nite and that gives regular attendees not only the opportunity to bid on great pieces from the HIGHLIGHT, FEATURED Sellers and other ATTENDEES but you also can make a little change. 
 FAQs
How can I contact the organizer with any questions?
misistersclosetbidfarewell@gmail.com
1.855.488.1774 ext. 9
1.833.482.5550
 FAQs
Do I have to Speak at the event?
ABSOLUTELY NOT! If you would like for us to assist you with selling your items then sure... but if you rather not we have a PROFESSIONAL and AUTHENTICBID CALLER to do all the CRYING aka CALLING for you. Just attend and look Pretty and make a Penny!