Description
Applying Law of Attraction to Your Personal and Business Life!
The Formula for Attracting What You Want -- Deliberately
Are you just stumbling onto Law of Attraction and are eager to learn more? Have you been practicing Law of Attraction but have your hands on your hips saying "Where is my manifestations - why is this not working for me?"
Are your friends bragging about all of their Law of Attraction Manifestations? If you want to learn the science of attracting more of what you want and less of what you don't want in your life. … THIS SEMINAR IS FOR YOU!
Michael Losier's Law of Attraction has sold more than 3 million copies in 37 languages.
Are you new to Law of Attraction and confused about what it's all about or even where to get started?
During this full day training seminar, you will learn the formula and steps so you can apply Law of Attraction in any area of your life, your relationships, job, job interviews, customs, clients, friends, your healthy and much more.
You will learn the 3-Step Formula for Deliberate Attraction.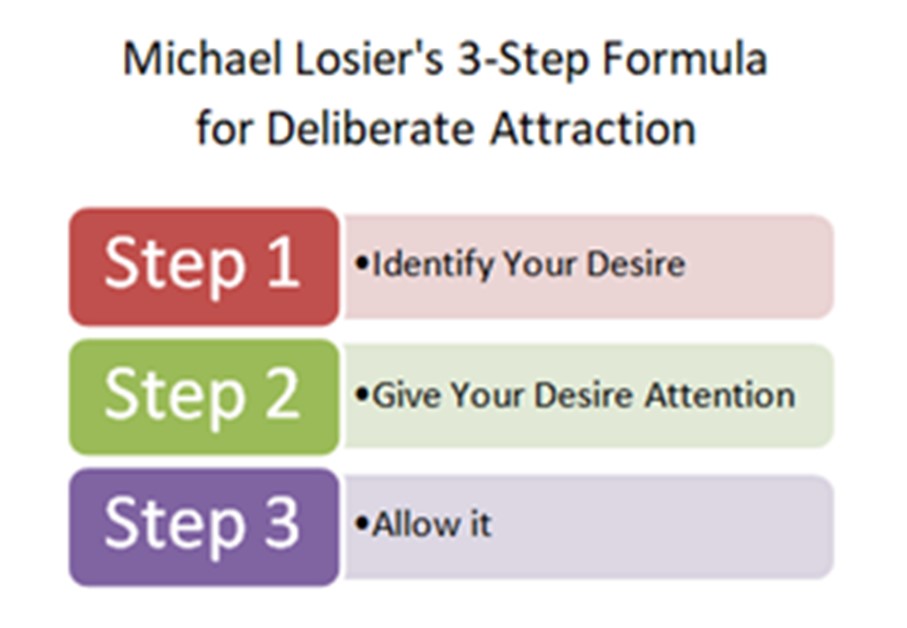 Law of Attraction is already existing in your life -- now it's time to KNOW and apply the formula so you can be more deliberate in what you are attracting.
Michael uses worksheets and Accelerated Learning Techniques so you will be sure to know how to master and apply this 3-Step Formula over and over again to all areas of your personal and business life.
During this content-rich, high-participation training seminar, you will learn:
Why and how Law of Attraction works
Why you are attracting negative things and how you can start attracting what you desire
The three-step process for deliberate attraction
How to define your Ideal Job, Relationship, Customer, Ideal Sale, Ideal Referral
How to give attention to your new desires so Law of Attraction can deliver
How to Allow this new desire to come to you -- the most important step in the process
Scripts and processes to help you maintain positive thoughts and results
You will also bring home strategies for maintaining good language, positive thoughts, and a 30-day assignment to help integrate the message of Law of Attraction in your business.
To ensure full retention of materials, Michael uses worksheets for his Law of Attraction seminar.
---
DETAILS:
When: Sunday, June 3rd 1pm to 5pm
Where: Four Points by Sheraton Toronto Airport (Georgian Hall)
6257 Airport Road, Mississauga, Ontario L4V 1E4
---
Ticketing Information:
Regular Price: $149
*BONUS: First 30 people get a FREE copy of Michael's Best Selling book: 'Law of Attraction'