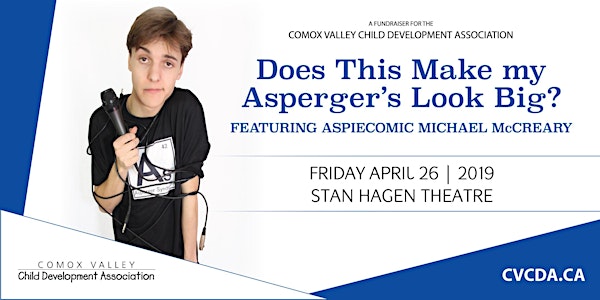 Michael McCreary in "Does This Make my Asperger's Look Big?"
Aspiecomic, Michael McCreary shares his hilarious and sometimes awkward life experiences of living on the autism spectrum.
When and where
Location
Stan Hagen Theatre 2300 Ryan Road Courtenay, BC V9N 9C1 Canada
Refund Policy
Contact the organizer to request a refund.
About this event
Please join the Comox Valley Child Development Association (CVCDA) as we present AspieComic, Micheal McCreary for his presentation of "Does This Make my Asperger's Look Big?".
Tickets will also be available at the door starting at 6:30pm, while quantities last. For more information please call: (250) 338-4288. All proceeds go to the Comox Valley Child Development Association.
ABOUT MICHAEL
Michael McCreary may only be twenty-two, but he's already well on his way to fulfilling his lifelong, albeit short, dream of becoming a stand-up comedian.
In the past 5 years he has performed stand-up shows, keynote addresses and panel presentations in every province in Canada and across the United States. Michael has also:
• Written the book "Funny, You Don't Look Autistic" (Annick Press, due for release March 12, 2019)
• hosted videos explaining autism;
• delivered a TEDx Talk;
• done a cross Canada tour hitting every province performing shows and interviewing families to find the positive ways people are dealing with life on the spectrum.
• And he consulted on the TV show "Ransom" to insure the authenticity of a character with autism.
The young comic, a high school grad from Orangeville, Ontario, was diagnosed with Asperger's Syndrome at the age of five. In an act of self-preservation, combined with the desire for constant attention and the inability to stop talking, stand-up comedy seemed inevitable.
Michael combined his love of comedy and his obsession with Hollywood movies and trained under David Granirer, founder of Stand Up for Mental Health, to create his act "Does This Make My Asperger's Look Big?" Over the past 7 years Michael has performed at conferences, galas, universities, bars and church basements across Canada and the United States. See the world through his eyes as he takes you on a comical journey through the lighter side of Asperger's Syndrome. Learn More about Michael at https://www.aspiecomic.com
BOOK SIGNING
In Partnerhip with Laughing Oyster Bookshop, Michael's new book, Funny, You Don't Look Autistic: A Comedian's Guide to Life on the Spectrum (released March 2019) will be available for purchase on site at the Stan Hagen during the event. Also, Michael will be available immediately following his presentation for a brief meet and greet, where you will also be welcome to get your book signed.